Jason Reitman Gives Updates On Upcoming Movies: Labor Day, Whispers In Bedlam, A Mystery Project And A... Hockey Movie?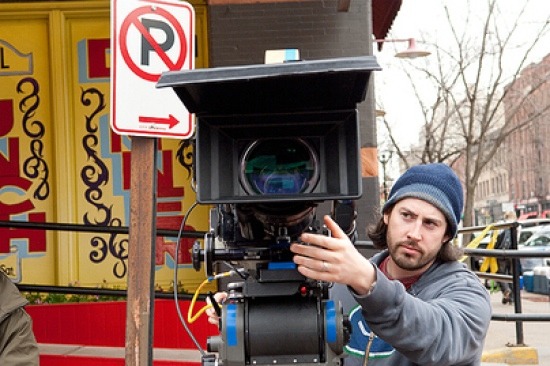 Jason Reitman is this week's guest on ESPN's Bill Simmons podcast, The BS Report (mp3). Amidst all of the discussion of The Golden Globes, how Clooney got involved in Up in the Air, Reitman's second choice casting for the role of Ryan Bingham, and when the director is going to start work on his next project.
And the good news is we won't have to wait too long. This very week is when Reitman will set about scripting his next project:
I'm actually about to start writing my new screenplay next week. I have a trip planned I'm gonna go out, I'm adapting this book... I've got a five day trip, I'm gonna try to write as much as possible.
Obviously, he's not thinking he'll get it all done in those five days, he's not John Hughes – but what book is this? None of the potential projects in Peter's post "What will Jason Reitman direct after Up In the Air" are literary adaptations. It seems like the project heaped on to the top of the pile a month later is the one – an adaptation of Joyce Maynard's novel Labor Day.
Here's Peter's synopsis of the book:
The book tells the story of a long Labor Day weekend through the eyes of a then 13-year-old boy who along with his reclusive depressed divorced mother are willingly taken "hostage" by an escaped convict in their own home.
After the break, Reitman's comments on another project he's lining up.
Here's more quotage from Reitman during the podcast:
I'm working on a football movie... This football idea is a strange one. It doesn't even take place in a modern football and it's based on a short story and I like it a lot.
This one does appear to be in the What's next? post. It was therein summarized thus:
Whispers in Bedlam – Based on a short story by Irwin Shaw, this comedy is about a football player with hearing problems who receives experimental surgery and finds himself suddenly able to hear everyone talking from far distances.
Sounds fascinating to me, and inherently cinematic too. I've always had a weakness for stories about how life can be radically transformed by the repercussions of a tiny change.
There's another potential sports project in the queue too, though it sounds rather distant:
I also have an idea for a referee movie for hockey but I haven't chewed on it much. Frankly, Hockey is hard because of Slapshot ... Bull Durham makes baseball difficult, Hoosiers and White Men Can't Jump make basketball difficult.
I agree, particularly in respect of the two Ron Shelton pictures there. Most enticing quote:
I'm actually just bout to start working on something that I can't talk about but you and I (Simmons) have talked about before. We in fact sold that yesterday.
What is it? We'll soon find out, I'm sure.
Podcast tip from The Playlist