Cyrus Movie Trailer: The Duplass Brothers Give Jonah Hill A Chance To Grow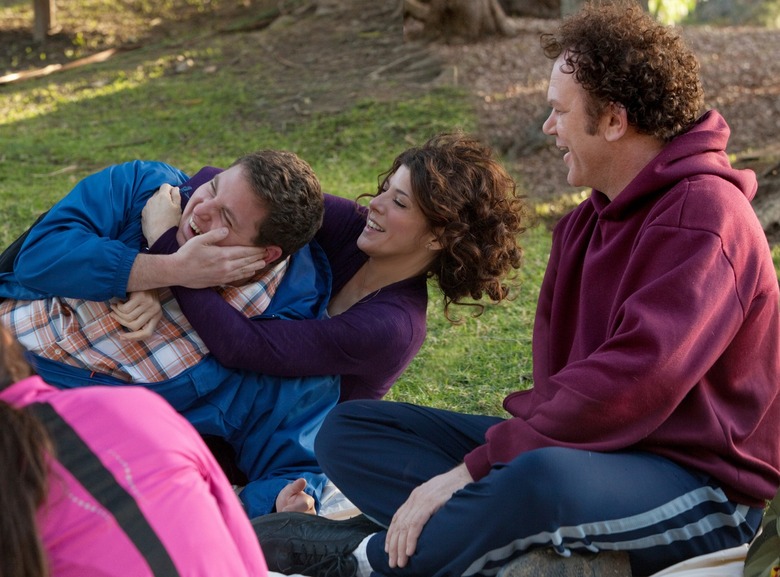 We've been writing about Cyrus, the new film from the Duplass Brothers, for a while — it was announced last year, shot quickly and is now at Sundance. And until about halfway through this trailer I'd completely forgotten that Jonah Hill was in the film. Then, when he shows up, after just a couple of lines I was floored. Hill looks great in this. Granted, he's got impressive actors to play against (John C. Reilly and Marisa Tomei) but this might be the film that changes how he's perceived. Check it out and see if you agree. 
Basically, John (Reilly) is a depressed, recently divorced guy who is bordering on total loser-dom. At a party, he manages to hook up with the wildly hot Molly (Marisa Tomei) who, as it turns out, has an adult son. That's Cyrus (Hill), and he and mom have an interesting relationship that John isn't entirely comfortable with. But Molly seems otherwise perfect, so what's a guy to do? Deal with Cyrus.
We've known that Reilly can do the loser, and that Tomei is more than versatile enough to nail this one. But as Cyrus, Hill shows off this odd manchild/Travis Bickle quality, and seems to have more depth than we've seen from him before. I hope the film fulfills the promise of this trailer.
Here's the official line on the film:
Alone and acutely depressed, having just learned of his ex-wife's wedding plans, John can't believe his luck when he encounters beautiful, charming Molly at a party. The two get along famously and launch a passionate affair, until Molly's 21-year-old son, Cyrus, enters the scene. Will Molly and Cyrus's deep and idiosyncratic bond leave room for John? Cyrus becomes a dark, poignant, sometimes hilarious war dance as Molly, Cyrus, and John walk the line between creepy and sympathetic. Each member of this awkward triangle teeters somewhere between bare honesty and furtive manipulation as he or she lets loose all manner of dysfunctionality. The excruciating, delightful fun is seeing where the boundaries ultimately land.