Burke And Hare Cast Expanding - Isla Fisher, Tom Wilkinson And Paul Davis Join Up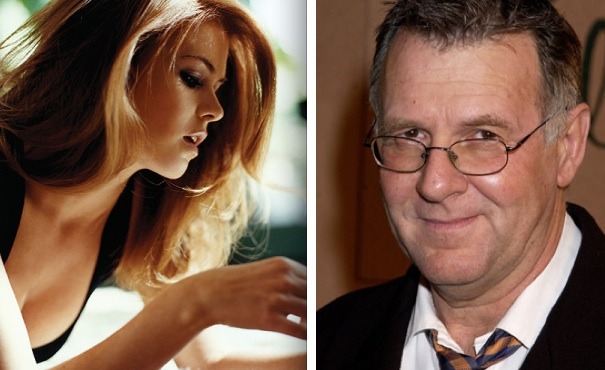 It's all coming out now regarding the casting of John Landis' Burke and Hare, the comedic horror film about the UK's first acknowledged serial killers. Simon Pegg, the man who will be Burke, broke the news via Twitter that David Tennant is no longer going to play Hare, and that Andy Serkis will be coming onboard instead. Now, the very next day, we learn that Isla Fisher and Tom Wilkinson have also joined the lineup.
Fisher's role is a love interest for Simon Pegg and a young lady who "might or might not be an accomplice to the murders" – meaning, the question of her complicity is going to be an actual plot point. History records whether or not Burke's real life mistress, Helen M'Dougal, was acquitted of any involvement in the crimes but I won't spoil that here. Besides, the film may fictionalise events completely. While Fisher's character is going to be an actress, I've got no idea if the real M'Dougal was. Any West Port Murders experts out there?
In life, Hare was married and his wife was also suspected of involvement in the crimes. There's no news yet, however, if there's going to be a Margaret Laird in the movie or if she's been tidied away.
Wilkinson's role is going to be that of Robert Knox, the surgeon who purchased dead bodies from the murdering duo. His role was immortalised in a popular rhyme at the time:
Burke's the butcher, Hare's the thief,
Knox, the boy who buys the beef!
Though Knox was not tried, his association with Burke & Hare did completely ruin his career. It might be a fairly substantial role, it might not be, but with Wilkinson, it's in safe hands either way.
Prior reports have John Cleese and Bill Nighy cast in the film.
There's one more tiny piece of casting on the film that you may not be aware of. Paul Davis is the young man who directed Beware the Moon, the fan documentary that became a special feature on the American Werewolf in London Blu-ray. I interviewed him at the same time as I did John Landis last year, and the video is still available here on /Film.
According to his official blog, Davis also has a small role in the film. Because he has tweeted about a costume fitting, we know he won't just be a corpse at the medical school... but might he be a murder victim? I bet this feels like a nice reward for the hard work he did with Beware the Moon.
Via Heat Vision