/Film UK - Danny Boyle's Frankenstein, Mesrine, Zach Galligan And More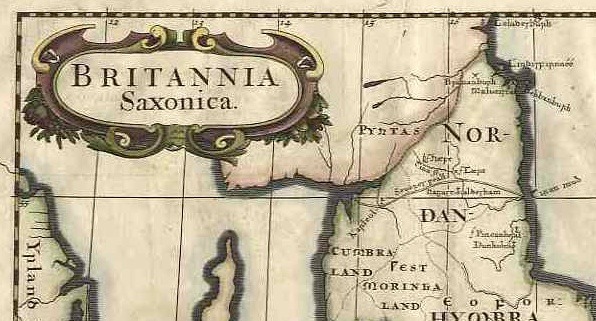 We may receive a commission on purchases made from links.
Coming to you weekly from my vantage point in good old Blighty, it's Slashfilm UK. Anglos and Anglophiles rejoice as every Friday I'll be bringing you a round up of news, links and coverage specific to the motion picture comings and goings here in the UK. Sometimes we'll be talking about films that have already played in the US, other times it will be films that won't make it to the US for a good while yet, and from time to time you'll read about films that will never make it to the US at all because.
Be warned that one video file below the break may well begin to autoplay. I have tried to stop it doing such as I realise how annoying this is, but unfortunately, I can't make it behave. Please accept my apologies, but I think it's better to include the clip than not feature it at all.
Though Stephen Fry didn't manage to write an episode of Dr. Who for the Tennant era, he's up for putting some words into the mouth of Matt Smith instead. He's also revealed, in the same BBC interview, that there's an upcoming show to mark 30 years of Messrs. Fry and Laurie (as in Hugh Laurie, as in House) working together.
Talking of the Doctor, do you fancy a Who videogame? The BBC are making the right business moves to enable this, according to MCV. We'll be seeing waggle-powered Matt Smiths up and down the land come Christmas 2010, I'd wager.
Producer Richard Raymond has been tweeting about his brilliant London-set gang-fantasy-romance-thriller Heartless. Amongst the news came his (now deleted) tweet which revealed that the film would see a UK release on May 21st. As well as just hitting cinemas, however, he said the plan is to simultaneously launch the film in cinemas, on disc, to download and through VOD. This is something of a first for a UK film, I believe.
Speaking of Heartless, here's a preview video hosted by Noel Clarke and filled with footage. Until the trailer hits, this will do nicely.
Incidentally, Raymond has also revealed that a new song called Pain and Magic has been recorded especially for the trailer. Presumably it has been performed by the film's star Jim Sturgess, as were several songs on the soundtrack.
The line-up for the Glasgow Film Festival has been unveiled. The main programme kicks off on February 18th with Jean-Pierre Jeunet's Micmacs and ends on the 28th with Legacy, a tense drama with Idris Elba as a black-ops soldier, and which was produced by the Glasgow-based Black Camel Pictures.
Mid-flow the Glasgow FF includes Frightfest, allowing one whole day plus one bonus film to be dedicated to world, European or UK premieres of creepy-gory business. They kick off on Friday 26th with Adam Green's Frozen and roll on through a pretty varied roster of splat-and-scare fare on Saturday 27th:
2001 Maniacs follow up Fields of Screams
'Cannibals on the subway' chase film Stag Night
An uncut version of Fulci's A Lizard In A Woman's Skin
The Belgian Giallo take-off Amer
Zombie sequel [REC] 2
Vincenzo Natali's superb-looking Splice
and Reykjavik Whale Watching Massacre, which features Gunnar Hansen, ol' Leatherface himself.
Sky TV are pushing ahead with "general entertainment and mainstream programming in 3D" to go along with the "sports and arts events" according to Broadcast. Nice. They are planning to launch the home 3D channel very soon, I understand – maybe even in the third quarter of the year – but as soon as April in pubs.
Is Cut the first horror film to be staged in a single, continuous shot? That's the claim in this intriguing trailer.
And now we know what Zach Galligan looks like these days. Glad to see you back, Zach. While you're here, can you get me a copy of Nothing Lasts Forever?
Those Daily Mail people have our first look at Colin Firth and Helena Bonham Carter in costume for Tom Hooper's The King's Speech. What's that in Colin Firth's hands? I reckon it's either the script for the King's speech or maybe just the script for The King's Speech.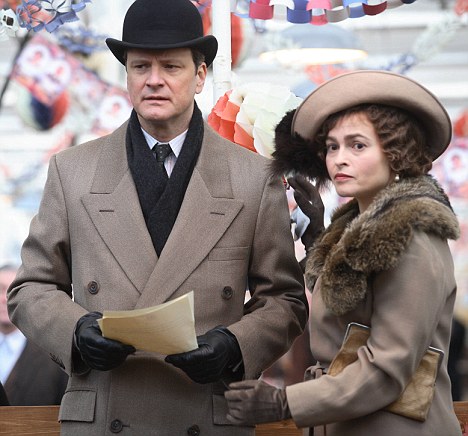 There's also a not-so-hot snap of Geoffrey Rush over at the Mail, as well as another look at Carter.
IFC films have announced a roadshow presentation for the Red Riding trilogy in some Stateside cinemas, starting February 5th. That means all three films, back to back, with only a short intermission between them. Sounds heavenly – though I suppose we in the UK will just have to make do with the DVD set that's already been on our shop shelves for months. I really can't recommend these films enough, though. Tony Grisoni's scripts are tremendous and the cast is self evidently amazing – Andrew Garfield, Paddy Considine, Rebecca Hall, Warren Clarke, David Morissey and so many more of Britain's best.
The UK Film Council have released the official stats for 2009 film in Britain and they paint a pretty good picture, all things considered:
Cinema admissions reached their highest count since 2002, with a new record box office take of a billion pounds.
In terms of production, it was the second highest annual spend on record at £956.9m, 56% higher than 2008.
UK Independent films took 8.5% of our box office, which is the highest score in a decade.
Only 22 international co-productions were made. This is significantly lower than 2003's record of 106, which the UK Film Council attributes to the current make-up of tax incentives which specifically reward spend "on the ground" here in the UK.
Simon Cowell has signed a new, five-year deal with Sony. The Financial Times indicate that this will include some film production. Oh dear. Looks like he's about to try and do to the box office what he did to the pop charts. Thankfully, I think he'll fail.
Judging from the BBFC website, the UK DVD and Blu-ray of The Imaginarium of Dr. Parnassus will include a commentary track, a deleted scene and a costume test with Heath Ledger. Stay tuned in coming weeks for news of something altogether more... surprising that has been prepared for release in other countries...
Chris Smith's Black Death has had it's UK release postponed until May 28th. All the better for a London Frightfest premiere, I suppose.
Here's the poster for Tony.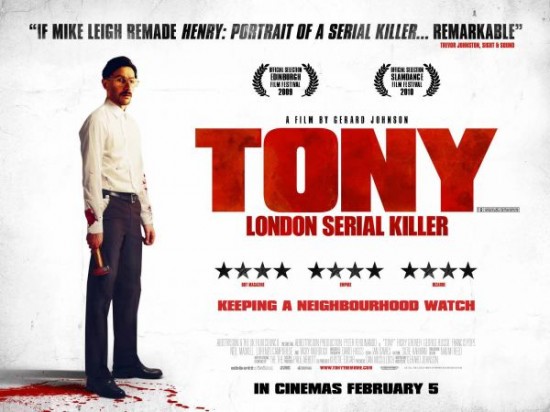 We've already had the trailer.
You probably either know already or don't give a hoot, but The Daily Mail are suggesting that Keira Knightley got sick of waiting for My Fair Lady to shoot, so she ditched the project altogether. But huh? John Madden is on to direct now, so progress should be picking up – doesn't it look like it's actually his involvement that's shake off Knightley? Carey Mulligan is apparently now being sought for the role. The story also claims that Matthew Bourne will choreograph the film's dance sequences – that's something, I suppose.
There's been a run on Glee tunes here in the UK, and the show has had a serious and sudden effect on our pop charts, say the Beeb.
Marion Cotillard is the guest vocalist on a (pretty dull) new song written and played by Franz Ferdinand. The Eyes of Mars has been composed and released as part of a Dior advertising campaign. Here's a Youtube video that features the tune over a still image.
Obviously jam packed with references to Irvin Kershner's The Eyes of Laura Mars. Still boring.
On Monday, the double-fisted Mesrine duo hit DVD and Blu-ray. Mesrine: Killer Instinct and Mesrine: Public Enemy Number 1 are the closest thing I've seen to a French Godfather parts 1 and 2 and are definitely far better than that other recent Public Enemy picture.
If you want to win a copy of each of the two films on DVD, the first step is to watch this video. It's a preview of one of the special features on the disc.
And now, e-mail me the answer to this question: the three characters are described as a right wing extremist, a left wing extremist and a... what?
I've watched the films on Blu-ray this week and can vouch for the AV quality. It's absolutely top-notch stuff. At their best, the films evoke other lean, mean crime dramas from France, like Melville or Dassin; at their worst, their scattered low-points play like the more pretentious US gangster pictures. Depending on your tolerance for the worst excesses of Michael Mann or Martin Scorsese, say, you could get more mileage out of the Mesrine films than I. I certainly enjoyed them, however, and not least because of the star-packed casts: Vincent Cassell, Mathieu Almaric, Ludivine Sagnier, Elena Anaya, Cecile De France, a smaller role for Gerard Depardieu. And trust me – you won't easily notice that these films share their director with the Assault on Precinct 13 remake.
The UK Amazon site has a product page for Finding Nemo on Blu-ray now. Lovely. The release date of May 1st is a bit iffy, though – that's a Saturday.
Here's a video of Mark Kermode discussing his latest glasses. They're 2D specs – which is to say, he's mickeyed with the lenses so that they turn 3D films into 2D ones. Can you hear me groaning? What's next, Mark – a pair of headphones that plays surround sound back to you in mono? A visor that renders colour films in black and white? Or a pair of blinkers that cut everything off to a 4:3 aspect ratio? Why not just put a bucket over your head and be done with it.
Bagsy I get the stick to beat on the bucket.
Here's a behind-the-scenes preview of Green Zone, directed by one of Britfilm's favourite sons, Paul Greengrass. The film hits UK cinemas on March 12th, around the time of my birthday, so I'm hoping it lives up to it's potential as Bourne with political balls. I've got a lot of thoughts about this one, but I'll save them for another time and now, let Greengrass do the talking.
Danny Boyle is going to stage his own version of Frankenstein at the National. Sir Nicholas Hytner, the theatre's artistic director said "When I spoke to him yesterday he said he was coming back to the theatre after being distracted for 15 years by the movies."
That quote resonated with me because I can't help but think Boyle is better suited to the stage than the screen. I'm certainly keen to see Frankenstein and assess his work in the medium. The script for the play is by Nick Dear and, according to The Telegraph, will take place in an early 19th century period setting. No casting has yet taken place but I think we can expect some big names to fall into Boyle's orbit.
Today is the day that Toy Story 2 3D is released across the UK. By my reckoning, it's a must – I was lucky enough to see the film at the London Film Festival last year and was absolutely bowled over by it, all over again. Unfortunately, the continued success of Avatar has meant that 3D screens are at a premium and finding a place to see Woody and Buzz might prove difficult. Then even where it is showing, it's often only at awkward times. Please check your local press or cinema websites.
Similarly, you might want to quite quickly hunt down a cinema screening Sex & Drugs & Rock & Roll, the Ian Dury biopic starring Andy Serkis. Despite Serkis being nominated for a best actor BAFTA this week, the film is already vanishing from UK screens, two weeks after release. Something's gone wrong there, don't you think?
I think we need to round this week's column out with some big "behind the curtain" news from Deadline Hollywood Daily. According to Nikki Finke, the BFI are planning a takeover of the UK Film Council. We've known for months that the two organisations were supposed to merge, but expectations were that the Council would swallow the Institute and not the other way around.
Finke assumes that the Conservatives are going to win the next UK general election. The very thought of it makes we want to "do a Kermode" and poke out one of my eyes.
There's no real clues as to how the UK Film Council and BFI are going to settle, and the news story pretty much only tells us that there's a rumble going on but as the first salvo in a "Watch this space" saga, it's worrying, interesting, intriguing stuff.