Has Simon Pegg Been Cast In Harry Potter? Nope!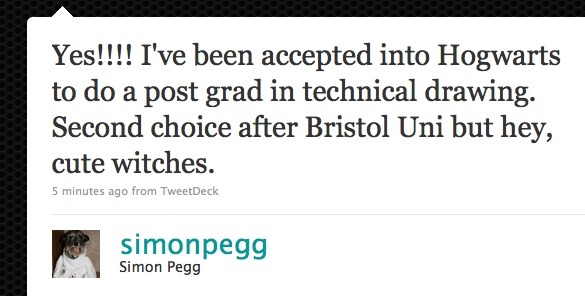 Update: Simon Pegg has responded "I am NOT in Harry Potter but I am the new Q in James Bond. (FALSE)." So as expected, it is not true, and was just a joke by the Brit comic actor.
I know this is extremely speculative (and yes, we're being very up front about that fact), but Harry Potter fans have begun to speculate that Star Trek/Shaun of the Dead star Simon Pegg has scored a cameo or small role in the last installments of the Harry Potter film series, Harry Potter and the Deathly Hallows.  Speculation began when Pegg posted the above tweet on his Twitter account:
Yes!!!! I've been accepted into Hogwarts to do a post grad in technical drawing. Second choice after Bristol Uni but hey, cute witches. Oh great they don't allow dogs. It's either cats or toads. That's fucking disgraceful. I'm making a formal complaint to UCCA. Magic that! They've made an acception because Minnie can speak German. Yay!!
Of course, Pegg could be talking about something else entirely. Maybe he has been invited to the premiere of the Magical World of Harry Potter at Universal Studios theme park. Or it could just be a joke. We'll update this story when more information is available. Thanks to /Film reader Michael D for the tip.