This Week In DVD & Blu-Ray: Gamer, The Invention Of Lying, Pandorum, Weeds (Season 5), And More...
This Week in DVD & Blu-ray is a column that compiles all the latest info regarding new DVD and Blu-ray releases, sales, and exclusive deals from stores including Target, Best Buy and Fry's.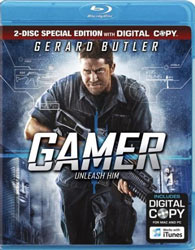 GAMER
The ADD-infused style that suited writers/directors Neveldine/Taylor so well on the Crank films doesn't quite work to their benefit in Gamer, a futuristic sci-fi action flick which exposes their shortcomings as filmmakers. The film is a mess, blundering through one set piece to the next, with little sense of what the film as a whole is trying to achieve. There's something to be said for energy and enthusiasm though, of which they clearly have plenty. The movie remains watchable even when you're not exactly sure what it is that you're watching. The mindlessness of the action is balanced against a scathing, cynical depiction of what the world has become, and that angle provides the film with just enough to help separate it from the hordes of other futuristic sci-fi actioners that it so clearly evokes. Also, it has Rocky Balboa's son playing a character named Rick Rape, and a musical number featuring Michael C. Hall. So, yeah... it has that going for it.
Available on Blu-ray? Yes.
Notable Extras: DVD – An audio commentary with writers/directors Neveldine/Taylor and actors Amber Valletta, Alison Lohman, and Terry Crews, an Inside the Game multi-part making-of documentary, a First Person Shooter: The Evolution of Red featurette, and a never-before-seen theatrical trailer cut by the filmmakers. Blu-ray – Includes everything on the DVD, as well as an I-Con Mode interactive feature, Gamer Cheat Codes (interactive specialized scene-specific audio and video commentary accessible throughout the film), and a digital copy of the film.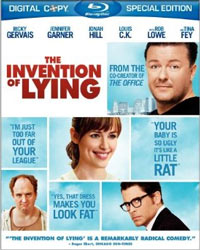 THE INVENTION OF LYING
I have a hard time believing that this movie is indicative of Ricky Gervais' intended vision, and not a result of studio meddling. There are glimpses throughout of an ambitious film that's attempting to achieve something unlike what we've seen before, but that half of the movie is balanced rather clumsily against a shallow, hackneyed romance that offers no emotional investment whatsoever. I so would've liked to see more of the former, less of the latter. The clever way in which Gervais seeks to examine religion (and in many ways even denounce it) provides the film with many of its more thought-provoking and hilarious moments, and had the film went all the way with those elements, it could have amounted to something rather ingenious. By the film's end though, it favors sentimentality over subversiveness, and the final result left me a little disappointed.
Available on Blu-ray? Yes.
Notable Extras: DVD & Blu-ray – Featurettes ("More Laughter: Corpsing and Outtakes", "Prequel: The Dawn of Lying", "Meet Karl Pilkington", "A Truly "Honest" Making of Featurette with Ricky Gervais"), Ricky and Matt's Video Podcasts, and deleted scenes. The Blu-ray will also include a digital copy of the film.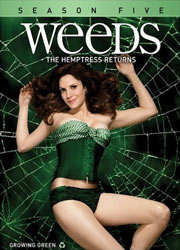 WEEDS (SEASON 5)
Attempting to analyze this past season of Weeds would suggest that it's the type of show that deserves to be analyzed. It's not. At this point, Weeds has become my "background noise" show. I watch it while I'm eating or scanning the newspaper or taking care of chores. What was once an engaging soap opera has since devolved into a predictably silly one, with each episode offering just enough entertainment value to keep me watching, but not enough to warrant giving it my full attention. Any emotional attachment I may have had to the characters has been withering away since Season 3, as they always seem to make precisely the wrong decisions necessary to prolong a certain subplot or up the drama in one way or another. From a storytelling standpoint, it makes sense. From a viewer sympathy standpoint, it's just annoying.
Available on Blu-ray? Yes.
Notable Extras: DVD & Blu-ray – 7 cast/crew episode commentaries, bloopers, and featurettes ("History of Weed", "Yes We Cannabis", "Little Titles by Jenji Kohan", "Really Backstage with Kevin Nealon", "Crazy Love: A Guide to the Dysfunctional Relationships of Weeds", "University of Andy").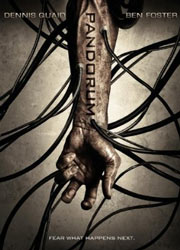 PANDORUM
Had Pandorum followed through on the promise of its first act, it very possibly could've amounted to an eerily fun psychological thriller. But the more the mystery unfolds, the less interesting it becomes. Before long, the movie discards its most engaging element in favor of blandly designed monsters that almost immediately suck all of the fun out of the film. Stylistically the film remains appealing, scooting by on its bleak tone and cold, mechanical set design—both of which seem to be deliberately reminiscent of Alien—but they're not enough to compensate for the film's unnecessary splicing of two barely connected plot threads, neither of which is effective enough to work on its own.
Available on Blu-ray? Yes.
Notable Extras: DVD & Blu-ray – An audio commentary, a World of Elysium: Behind the Scenes featurette, a Flight Team Training Video, deleted and alternate scenes. The Blu-ray will also include a digital copy of the film.
WHITEOUT
Some movies are so unquestionably awful, they don't even deserve the energy it takes to explain what makes them so awful. Whiteout is one of those movies. Don't see it.
Available on Blu-ray? Yes.
Notable Extras: DVD – Additional scenes. Blu-ray – Includes everything on the DVD, as well as featurettes ("The Coldest Thriller Ever Story", "Freeze Frame: From Page to Screen"), and a digital copy of the film.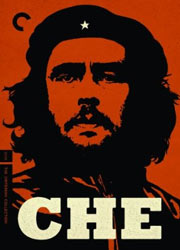 CHE (CRITERION COLLECTION)
Steven Soderbergh is always an interesting filmmaker even when he isn't a successful one, and based on the exceptionally diverse response that his two-part biopic about Marxist revolutionary Ernesto "Che" Guevara has been receiving since it first screened at Cannes last year, that certainly seems to be the case here as well. At 4 and a half hours total, you'll have to decide for yourself whether the prospect of an interesting failure is enough to compensate for the demanding running time.
Available on Blu-ray? Yes.
Notable Extras: DVD & Blu-ray – Audio commentaries on both films, featuring Jon Lee Anderson (author of Che Guevara: A Revolutionary Life), a Making "Che" documentary, new interviews with Cuban historians as well as participants in the 1958 Cuban Revolution and Che's 1967 Bolivian campaign, deleted scenes, theatrical trailers, and a booklet featuring an essay by critic Amy Taubin.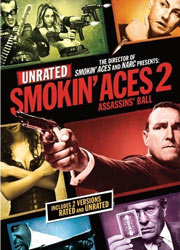 SMOKIN' ACES 2: ASSASSIN'S BALL
The world is full of low-budget DTV sequel cash-ins, and the majority of them are terrible. Odds are, Smokin' Aces 2: Assassin's Ball is no different, but with Smokin' Aces writer/director Joe Carnahan credited as an executive producer and a co-contributor to the story, it's at least comforting (or unfortunate, depending on the film's quality) to know he played some part in getting the sequel made.
Available on Blu-ray? Yes.
Notable Extras: DVD & Blu-ray – Commentary with executive producer Joe Carnahan and director P.J. Pesce, deleted scenes, featurettes ("Confessions of an Assassin", "Ready, Aim, Fire: The Weapons of Smokin' Aces 2", "Cue the Clown", "The Bunker Mentality: Designing the Set"), and a gag reel.
Other noteworthy DVD (and Blu-ray) releases this week...
Damages (Season 2) – Angus, Thongs and Perfect Snogging – Outrage – Blood Creek – According to Greta [DVD / Blu-ray] – Across the Hall [DVD / Blu-ray]
Other noteworthy Blu-ray-specific releases this week...
Magnolia – The Bourne Identity – The Bourne Supremacy – The Bourne Ultimatum – Smokin' Aces

NOTE: Some deals may be in-store only.

Exclusive: Smokin' Aces 1 & 2 Blu-ray Combo Pack ($29.99)
$12.99 DVD and $16.99 Blu-ray – Inglourious Basterds, Star Trek, Transformers: Revenge of the Fallen, Night at the Museum: Battle of the Smithsonian, and more...