Watchmen Screenwriter Developing Push Television Series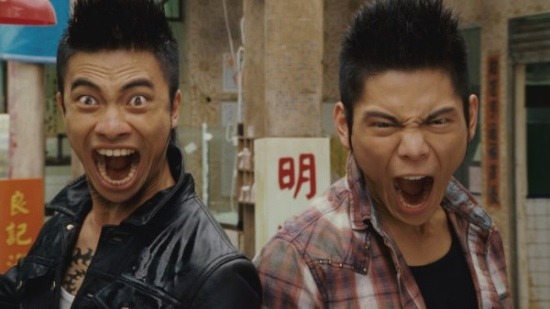 Summit Entertainment has announced that they are teaming with E1 Entertainment to develop a television series based on the superhero movie Push. The pilot episode, which will be written by David Hayter, who penned Watchmen, The Scorpion King, X2 and X-Men, will be an "extension of the film", a science fiction thriller, centered on people with paranormal powers who band together to take down a corrupt government agency.
I always thought that Summit had a good concept with Push, but the film was just poorly executed. So I'm excited to see how the tv show turns out. I can't imagine it ending up worse than Heroes, and for all intents and purposes, a Push television series will be a Heroes 2.0 — let's see if they can do it right this time around. Read the full press release, after the jump.
SUMMIT ENTERTAINMENT AND E1 ENTERTAINMENT TEAM UP FOR TELEVISION VERSION OF HIT FILM "PUSH"Television Series Development and Production Marks Summit's Evolution into Production for the Small Screen X-Men and Watchmen Screenwriter David Hayter to Write Pilot Script and Executive Produce with Dark Hero Studios Partner Benedict Carver
Los Angeles/Toronto – January 19, 2009 – Summit Entertainment, a worldwide theatrical motion picture development, financing, production and distribution studio, and leading independent studio E1 Entertainment announced today that they plan to jointly develop and produce a television series based on Summit's 2009 feature film Push. The project marks a natural evolution for Summit of not only producing feature films but also developing and producing material for the global television marketplace. The television series will be an extension of the film, a science fiction thriller, centered on people with paranormal powers who band together to take down a corrupt government agency. The Push television series furthers the relationship established in 2007 between Summit and E1, with E1 licensing exclusive distribution rights to Summit produced feature films in the UK and Canada.
Screenwriter David Hayter, who penned the blockbuster films Watchmen, The Scorpion King, X2 and X-Men, will script the series pilot. E1 and Dark Hero Studios, co-owned by Hayter and producing partner Benedict Carver, will jointly produce the series based on the screenplay created by David Bourla for Summit Entertainment. Hayter and Carver will be executive producers, along with E1's Noreen Halpern and John Morayniss. Summit, E1 and Dark Hero are currently in discussion with US broadcasters about the series. Hayter and Dark Hero Studios are repped by UTA.
"The concept behind the Push feature film offers a broad and rich canvas on which to extend the storyline and characters introduced in the feature film," said Summit Co-Chairmen Rob Friedman and Patrick Wachsberger. "The project is also the perfect vehicle to initiate Summit's plans of producing programming for the global television marketplace. The opportunity to do this with our trusted partners at E1 re-enforces that this is the right opportunity to grow Summit's platform."
Patrice Theroux, E1's President of Filmed Entertainment says, "It's a pleasure to witness the next step forward of our theatrical relationship with Summit take place with the television series Push. The strengths that exist between E1, Summit and Dark Hero are going to result in a phenomenal TV series, which will resonate on a worldwide basis."
John Morayniss, CEO of E1 Television, added "This is one of those 'perfect fit' moments: David Hayter's work on Watchmen gives him super-hero status on the sci-fi front, and instantly ensures that Push gets the right kind of attention."
"I'm looking forward to translating the fantastic concept behind Push to the small screen," said Hayter. "I'm also thrilled for Dark Hero to be in business with two independent powerhouses like Summit and E1."
Summit and E1 will jointly arrange for the U.S. television license to the Push series. E1 is set to handle the TV sales in Canada as well as home entertainment and broadcasting rights in Canada, UK, and The Benelux. Summit will distribute home entertainment in the U.S. Both Summit and E1 will split foreign sales by each handling separate territories as part of their stated multi-territory content distribution strategy.
Summit Entertainment released the moderately budgeted feature film Push on February 6, 2009. The film, directed by Paul McGuigan and starring Chris Evans, Dakota Fanning, Camilla Belle and Djimon Hounsou, went on to gross nearly $50 million worldwide. The film is currently available on DVD and Blu-Ray.
Summit Entertainment's blockbuster franchise The Twilight Saga continued its worldwide success as The Twilight Saga: New Moon, starring Kristen Stewart, Robert Pattinson and Taylor Lautner, arrived in theatres this past November to a record-breaking opening. The third installment of the film franchise, The Twilight Saga: Eclipse, will be released June 30, 2010. Other well-known Summit feature film titles include the Sci-fi hit Knowing starring Nicolas Cage and the critically acclaimed film The Hurt Locker directed by Kathryn Bigelow.
E1 is building worldwide recognition as one of the industry's foremost creators, producers and international distributors of quality entertainment in all genres. The studio has the ability to attract an impressive roster of in-demand creative partners, top networks and specialty broadcasters. E1 most recently announced a partnership with Stephen King to produce and distribute the television series Haven, based on the author's novella, The Colorado Kid. E1 recently completed a deal with Universal Networks International to provide content in support of their revitalized channel portfolio launch. E1 continues to make significant inroads with major broadcasters in the U.S. and around the world with high-profile series such as Hung for HBO, The Bridge for CBS and CTV and Copper for ABC and Canwest.
# # #
About Summit Entertainment, LLC
Summit Entertainment, LLC is a worldwide theatrical motion picture development, financing, production and distribution studio. The studio handles all aspects of marketing and distribution for both its own internally developed motion pictures as well as acquired pictures. Summit Entertainment, LLC also represents international sales for both its own slate and third party product. Summit Entertainment, LLC plans to release 10 to 12 films annually.
About E1 Entertainment
E1 Entertainment (AIM: ETO) is a leading independent entertainment content owner that acquires film, television and music rights and exploits these rights in all media in more than 190 countries.
The company currently operates in Canada, the U.S., the UK, Holland and Belgium through its four primary businesses units: E1 Television, E1 Films, E1 Music and E1 Distribution. These businesses collectively represent E1's extensive expertise in film distribution, television and music production/distribution, kids' content, licensing and distribution.
E1's content library includes more than 3,700 feature films, 2,700 hours of original television programming and 15,000 music tracks.
About Dark Hero Studios, Inc.
David Hayter and Benedict Carver formed Los Angeles-based Dark Hero Studios to produce feature films, television programming, Internet content and videogames in the action, sci-fi and horror genres. David Hayter is one of the most accomplished screenwriters in Hollywood, with credits including X-Men, X2: X-Men United, The Scorpion King and Watchmen. Hayter started his career in Hollywood as an actor, with a decade-spanning stint in the lead role of "Solid Snake" in the massively popular Metal Gear: Solid videogame. Carver, a former reporter for Variety and Senior Vice President at Screen Gems, has produced a string of genre films, including Doomsday, directed by Neil Marshall. Dark Hero is currently prepping Hayter's feature directing debut, Wolves.