Mel Gibson Definitely Is Not In Mad Max 4; Will Make His Viking Movie In Old Norse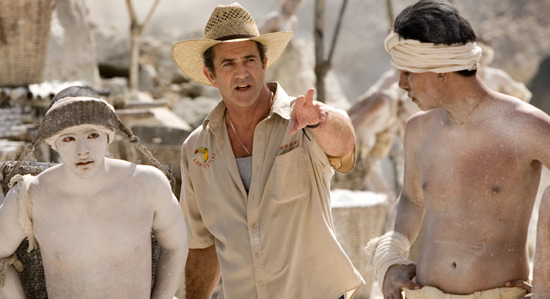 A warning to all actors: be very specific (if you can) when talking about potential projects. Over the weekend a few sites did the LA junket for Edge of Darkness, and one of the first questions to star Mel Gibson was, naturally, about his potential involvement in George Miller's new Mad Max movie. When Gibson didn't explicitly say that he would not make an appearance some wondered if the door was open for a cameo. Now the actor has been explicit in another interview, leaving no room for supposition. Gibson has also offered some details about his proposed Viking movie.
Speaking to Dark Horizons, Gibson says of the potential for a Mad Max cameo:
No, not at all. We've talked about it. We said – "Hey, how you doing." You know, we've cleared it. It's no biggie. No biggie. It's his franchise. It's his to do with as he wishes and I'm looking forward to seeing it. Good luck to him. I mean, I think he's a genius. Everything he does, everything he turns his hand to, is somehow, extraordinary.
The much more interesting stuff coming out of the Edge of Darkness junket [via Collider and CHUD] was the fact that Gibson wants to shoot his Viking movie with some scenes in Old Norse, and that he's been wanting to make a Viking movie since he was sixteen. The Viking film was, in fact, his "first thought about ever being a filmmaker." At the time he was studying Old Norse (which is much like modern Icelandic), and wanted to make the film in that language. And he still does.
I think it's going to be English – the English that would have been spoken back then – and Old Norse.  Whatever the 9th century had to offer.  I'm going to give you real.
I like that, but the language is just a part of his dream to create real, imposing Vikings on screen.
I want a Viking to scare you.  I don't want a Viking to say, "I'm going to die with a sword in my hand."  I don't want to hear that.  It pulls the rug out from under you.  I want to see somebody who I have never seen before speaking low guttural German who scares the living s*** out of me coming up to my house.  What is that like?  What would that have been like?
Knowing full well that Gibson doesn't shy away from onscreen violence, he might actually scare the s*** out of audiences with his Vikings. Glorious. (Also note that Old Norse would have been a northern Germanic language, so Gibson talking about someone speaking "low gutteral German" could be slightly mis-transcribed, or he could have been over-simplifying.)