Casting Notes: Moon Bloodgood In Faster; Kevin Spacey Works In China; Paul Giamatti In Tom McCarthy's Next?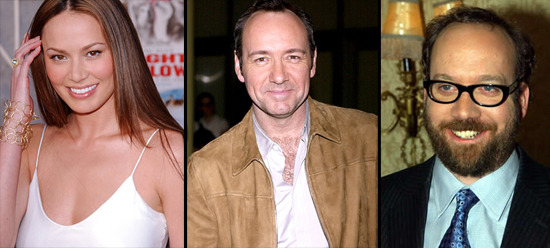 With a bunch of films scheduled to start shooting later this month and into the dregs of winter, we're starting to get some new blasts of casting info. First up, Moon Bloodgood has a new role in Faster, the George Tillman Jr.-directed revenge drama starring Dwayne Johnson. She'll play Johnson's girlfriend; Johnson is "an ex-con pursued by cops and killers as he sets out to avenge his brother's death." Also in the cast is Oliver Jackson-Cohen, who will be one of the killers on the Rock's trail. The trade report describes his character as "a self-made millionaire who kills for fun." [THR]
After the break, Kevin Spacey goes to China and Paul Giamatti may work with The Visitor director Tom McCarthy.
Kevin Spacey is going to China. He's joining director Dayyan Eng's black comedy Inseparable, "about a troubled young man who is befriended by a mysterious American expat (Spacey) who changes his life." The film will shoot with dialogue in Mandarin and English with locations in Southern China. Daniel Wu and Beibi Gong are also in the cast. [Screen Daily]
Finally, MTV recently talked to Paul Giamatti, who says "I may do a movie called Win Win, which is a small independent thing." That's the new project from Tom McCarthy, who recently shot the pilot for HBO's adaptation of George R.R. Martin's Game of Thrones.
This would be beautiful. I've loved McCarthy's two features (The Station Agent and aforementioned The Visitor) and think Giamatti would mesh perfectly with his sensibilities. McCarthy works incredibly well with character actors, and Giamatti is one of the best character actors going. This is supposed to shoot in New York and New Jersey next month. Fingers crossed.