Alice In Wonderland Soundtracks Revealed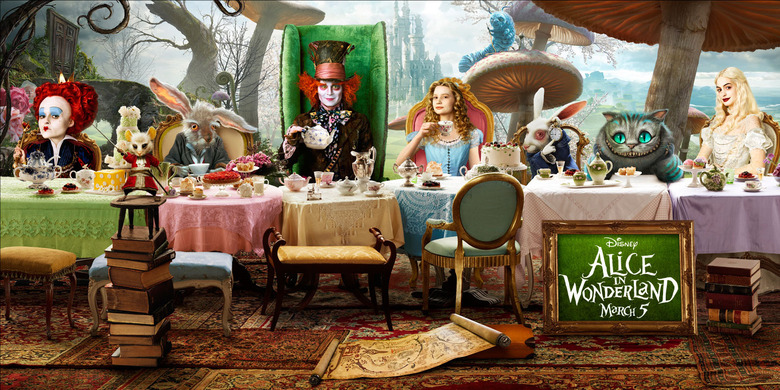 Buena Vista Records has announced they will release two albums for Tim Burton's Alice in Wonderland, one is a 16-song compilation featuring the end credit track "Alice (Underground)" written by Avril Lavigne and produced by Butch Walker, and the other is Danny Elfman's original motion picture score. The compilation includes songs from Franz Ferdinand, The All-American Rejects, Owl City, Mark Hoppus, Pete Wentz, Wolfmother and others. A full listing is available in the press release, included after the jump. On p of those two releases, Disney is wisely releasing an exclusive version of the Almost Alice compilation, which will include two bonus tracks, to Hot Topic stores to capitalize on the punk-goth/Burton connection.
BUENA VISTA RECORDS PRESENTS ALMOST ALICE FEATURING OTHER VOICES FROM WONDERLAND ALBUM INTRODUCES FIFTEEN NEWLY RECORDED SONGS IN A WHIMSICAL TAKE ON LEWIS CARROLL'S WONDERLAND INCLUDING AVRIL LAVIGNE'S "ALICE (UNDERGROUND)" ALMOST ALICE AND ALICE IN WONDERLAND ORIGINAL MOTION PICTURE SOUNDTRACK AVAILABLE MARCH 2, 2010
BURBANK, CA — January 12, 2010 – Buena Vista Records will release two albums capturing the wonder of Lewis Carroll's beloved books and visionary director Tim Burton. ALMOST ALICE is a 16-song compilation featuring ALICE IN WONDERLAND'S end credit track "Alice (Underground)" written by Avril Lavigne and produced by Butch Walker. Danny Elfman composes the score for the original motion picture soundtrack. Hot Topic will issue an exclusive version of ALMOST ALICE which includes two bonus tracks. All three albums will be released on March 2, 2010. ALICE IN WONDERLAND comes to the big screen in Disney Digital 3D™ on March 5, 2010 (U.S. theaters).
The ALICE IN WONDERLAND soundtrack captures the musical landscape Danny Elfman masterfully created for the highly anticipated Tim Burton film starring Johnny Depp, Anne Hathaway and Helena Bonham Carter. Elfman has established himself as one of Hollywood's leading film composers and has written close to 50 film scores featuring his unique sound, including Charlie and the Chocolate Factory, Milk, Chicago, Batman, Spiderman, Men in Black, Edward Scissorhands and Pee Wee's Big Adventure.
ALMOST ALICE boasts an eclectic array of recording artists with original songs based on some of the most charismatic characters in literary history, such as "In Transit" performed by Mark Hoppus and Pete Wentz. Other artists include The All-American Rejects, Shinedown, 3OH!3, Franz Ferdinand and All Time Low. "Very Good Advice" performed by Robert Smith, is the only song from Disney's 1951 animated film "Alice in Wonderland" that appears on the collection.
Coming to the big screen in Disney Digital 3D™ on March 5, 2010, ALICE IN WONDERLAND is an epic 3D fantasy adventure starring Johnny Depp as the Mad Hatter and Mia Wasikowska as 19-year-old Alice, who returns to the whimsical world she first encountered as a young girl, reuniting with her childhood friends: the White Rabbit, Tweedledee and Tweedledum, the Dormouse, the Caterpillar, the Cheshire Cat, and of course, the Mad Hatter. Visit the official site for more info at Disney.com/wonderland.
The track list for ALMOST ALICE is as follows:
1. Alice (Underground) Performed by Avril Lavigne
2. The Poison Performed by The All-American Rejects
3. The Technicolor Phase Performed by Owl City (previously released)
4. Her Name Is Alice Performed by Shinedown
5. Painting Flowers Performed by All Time Low
6. Where's My Angel Performed by Metro Station
7. Strange Performed by Tokio Hotel and Kerli
8. Follow Me Down Performed by 3OH!3 featuring Neon Hitch
9. Very Good Advice Performed by Robert Smith
10. In Transit Performed by Mark Hoppus with Pete Wentz
11. Welcome to Mystery Performed by Plain White T's
12. Tea Party Performed by Kerli
13. The Lobster Quadrille Performed by Franz Ferdinand
14. Running Out of Time Performed by Motion City Soundtrack
15. Fell Down a Hole Performed by Wolfmother
16. White Rabbit Performed by Grace Potter and the Nocturnals
The track list for ALMOST ALICE was released exclusively to www.myspacemusic.com today. ALMOST ALICE and the ALICE IN WONDERLAND Original Motion Picture Soundtrack will be available March 2, 2010 wherever music is sold.