Antoine Fuqua Will Direct Consent To Kill, Based On Novel By Vince Flynn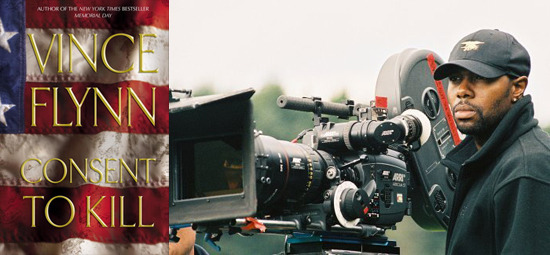 Antoine Fuqua is interesting proof that, with the right combination of ingredients, a director can really surprise you. Most of his catalog isn't particularly impressive (Bait, King Arthur, Shooter) but then there's Training Day. While we wait to see if Fuqua and his Training Day star Ethan Hawke can do a little alchemy again in Brooklyn's Finest (have to say, doesn't look like it) the director is lining up other work. He's just signed on to direct an adaptation of the Vince Flynn novel Consent to Kill, about CIA assassin Mitch Rapp.Variety has the details on the picture, which Lorenzo di Bonaventura (GI Joe, Transformers) is producing for my new favorite studio, CBS Entertainment (Extraordinary Measures, The Back-up Plan, Faster). We don't have a lot of details yet, and no significant cast announcements, but here's the recap of Vince Flynn's 2005 novel:
CIA assassin Mitch Rapp battles a Saudi billionaire bent on revenge, an ex–East German Stasi spy and a deadly husband-and-wife team of assassins. There's a $20-million contract out on Mitch's head, and to add injury to insult, he hurts his leg during a morning run. After a knee operation and an even more serious mishap, Mitch is out of the hospital and hot on the trail of the evildoers. Besides terrorists and assassins, Mitch has to battle the new national director of intelligence, a craven, hypocritical, inside-the-Beltway operator.
But the trade report says the story is being kept under wraps, which suggests that more than a few changes have been made by screenwriter Jonathan Lemkin. (Who also wrote Fuqua's Shooter, and The Devil's Advocate.)
My first thing about seeing that stuff like this can get made is, 'OK, so let's see someone tackle Lee Child's Jack Reacher novels.' But then I think about how many changes are wrought to books like these before they hit the screen, and combined with the difficulty of properly casting Jack Reacher I'm just as happy we haven't seen the options for Killing Floor or One Shot come to fruition.