Tom Hanks To Star, Write, And Direct Larry Crowne; Reuniting With Julia Roberts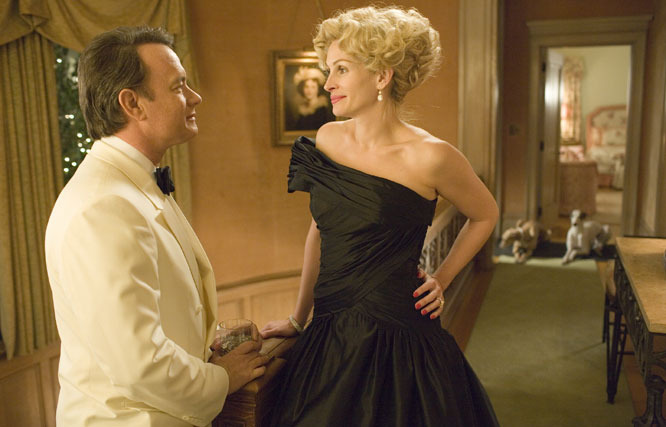 It's been some time since Tom Hanks has been in the feature film director's chair, but according to Mike Fleming over at Deadline Hollywood (are they on a roll today, or what?), Hanks is set to direct and star in Larry Crowne — alongside Charlie Wilson's War co-star Julia Roberts. Hanks wrote the screenplay, and previously wrote and directed That Thing You Do way back in 1996, as well as episodes of the TV series Band of Brothers and From the Earth to the Moon. He'll play the title character, "a man forced to reinvent himself and find a new career as he navigates the second act of his life."
I dug Hanks and Roberts' on-screen chemistry in Charlie Wilson's War, and I'm glad they're getting back together on another project so soon. While that film may not have lived up to the full promise of its pedigree — which included a script by Aaron Sorkin and direction by Mike Nichols — there were many things to like about it. Philip Seymour Hoffman was massively entertaining as always, but I was especially intrigued by Hanks and Roberts' relationship.
I haven't seen That Thing You Do recently enough to remember well enough how Hanks acquitted himself to directing, but I remember liking the film back in the nineties. I find this news more exciting than a typical casting blurb for Hanks because I'd love for him to blow us away with a film that's all his own. Mostly, I'm excited because it gives me another project to mentally separate Hanks from his Robert Langdon persona.
Roberts also had a good showing recently with Duplicity — a film that reminded me why she works so well on-screen. Hanks wrote the film specifically for them to star together, so I'm thinking she's going to get yet another chance to shine in Larry Crowne.
Discuss: Did you enjoy Tom Hanks' directorial effort in That Thing You Do? What do you think of him taking another shot at directing?