Blake Lively Cast As Green Lantern's Leading Lady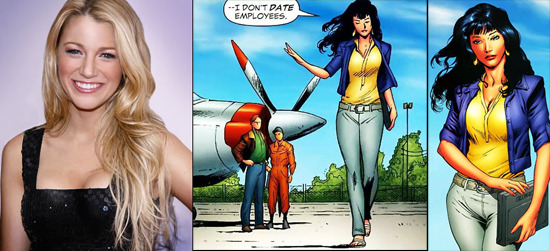 The search for an actor to play Green Lantern famously came down to a few big names: Ryan Reynolds, who got the job, as well as Justin Timberlake and Bradley Cooper. Trades are now saying that the hunt for a leading lady has been down to a few names as well, which is exactly as you'd expect it to be. There's always a shortlist; no tentpole film gets made with a couple of names just picked out of the sky.
Current info says that the shortlist for Green Lantern's primary female character Carol Ferris — an aerospace company exec and the woman who hires test pilot Hal Jordan, who becomes Green Lantern — included Keri Russell, Jennifer Garner and Blake Lively. The gig has gone to Lively, and she'll prep to shoot the film in March in Louisiana.
This is pretty surprising. Lively has done well on Gossip Girl, but at 22 is rather young. THR says that, as written, Lively's role is more appropriate for an older actress, but that Lively impressed everyone with both her audition and work in Ben Affleck's new film The Town, now in post-production.
Her character is described by the trade as a woman who "who runs her father's aerospace company and hires cocky test pilot Hal Jordan (Reynolds), who later becomes the intergalactic policeman Green Lantern. In the comics, the romance became complicated when an alien race bestowed her the power of a crystal called the Star Sapphire." Most female leads in films based on male comic book characters don't get powers of their own, so Lively could have a more interesting job than most.
We don't know her exact character trajectory in the film, however. The script by Greg Berlanti, Marc Guggenheim and Michael Green has been kept generally under wraps, though THR reports that Michael Goldenberg is doing a rewrite now.
As the trade says the next big roles to cast are those of "the alien known as Sinestro" and Dr. Hector Hammond. Jackie Earle Haley has been rumored for Sinestro, who eventually becomes one of Green Lantern's biggest antagonists. Hammond was described in the film's casting call as "austere and impersonal," "real 'scummy,'" and "a pathologist and also the son of a Senator." With the shoot only ten weeks away, we'll have names to attach to those characters soon.