Red Riding Movie Trailer And Poster: Domestic Promos For Acclaimed UK Crime Trilogy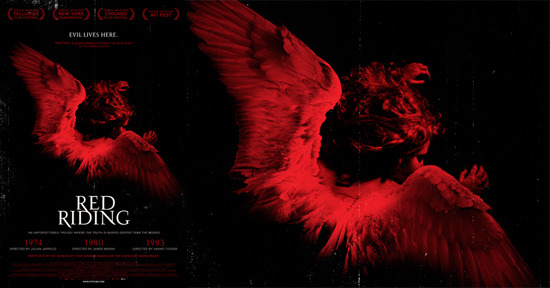 I knew nothing about Red Riding until the trio of films played Telluride last year. They generated quite a response, to the point where Columbia snapped up remake rights for Steve Zaillian and Ridley Scott to work on. Meanwhile, IFC is distributing the original films in the US, and the idea of being able to see a great crime trilogy is hopefully pretty damn enticing. Now there's a great domestic poster for the series, and an equally good trailer to promote IFC's release.
Vulture premiered the poster today, and Apple has the trailer in HD. The poster is striking and severe. Despite looking a bit too much like an alternate design for something like Angels and Demons, it would get my attention if I didn't know anything about the films, and I hope it makes other neophytes take note.
Written by Tony Grisoni and directed by Julian Jarrold, James Marsh and Anand Tucker, the three Red Riding films (originally broadcast on Channel 4 in the UK) adapt three novels by David Peace: Nineteen Seventy-Four, Nineteen Eighty and Nineteen Eighty-Three. They're described as so: "Set against a backdrop of serial murders, including the Yorkshire Ripper case, they deal with multi-layered corruption and feature several recurring characters across the four books. Though real crimes are featured the scripts are fictionalized and dramatized versions of events rather than contemporary factual accounts."
Considering that the trailer has to represent three films, it gets the core idea across really well. The opening quote is drastically overwrought, but after that it gets the job done. We see enough of Andrew Garfield and Paddy Considine, but I'd like to see more footage of Sean Bean and Peter Mullan. That's what the actual films are for, however. Expect more than a few viewers will draw comparisons between this and David Fincher's Zodiac, but that's no kind of bad thing, either.