Rumor Control: No Cruise/Lautner Pairing; Muse Possibly Soundtracking Clash Of The Titans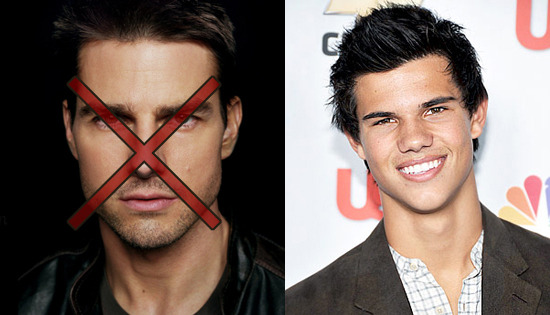 In the past twenty-four hours a few stories have broken that were either debunked, shown to be partially wrong, or are a bit optimistic. Brendon quickly jumped on top of Universal's denial of alternate cuts of The Wolfman, but here are a couple other items to be critical of.
Yesterday, there was news that Taylor Lautner would co-star with Tom Cruise in Northern Lights, which sounded sort of like Top Gun, Jr. Now EW reports that Cruise isn't part of the package, and never was. And, in fact, Nikki Finke (who, like it or not, usually has good info) got the logline wrong, too. Hers was out of date. Here's the current one, via Skydance, the production company:
Set against the backdrop of extreme flying, Northern Lights follows four young pilots as they compete against the world's best. A story of teamwork, sacrifice, loss, and victory, these young aviators push themselves to physical and emotional limits in the unforgiving world of performance aerobatics.
John Moore (Max Payne) is indeed directing, as previously reported, and the film starts shooting in Louisiana in April. Skydance didn't confirm or deny the massive $7.5m payday for Lautner that was originally reported.
Next, there's news that the band Muse has been offered a job writing music for the Clash of the Titans remake. (Which would presumably supplement Craig Armstrong's score.) The offer is quite real, but news that the band is really doing any music for the film hasn't been confirmed.
Muse's Matt Bellamy says:
It's something we're up for doing – it's just a case of timing because we're always on tour. Clash Of The Titans is the first interesting offer we've had for film work. We're definitely interested in writing for films at some point when we get a break from being on the road.
I don't know Muse beyond a few songs (and those aren't my bag at all) but I'm not surprised to hear they've been approached for this and other films. Their heavy / catchy / dancey stuff I've heard seems very much in line with the rock-influenced scores heard in recent action films. They've got a huge following, too, which wouldn't hurt PR for any film.
Point is, don't get too hopeful for this yet, despite some reports making it look like a lock for the band. Touring really does look like a big problem — the band's schedule is packed, and the film comes out on March 26. Perhaps the guys can come up with some material on the road, and record it during the little downtime they've got in the next month?
EDIT: Based on this three-month old quote from the National Post, sounds like (a) it was Bellamy alone who would do the music but (b) he isn't doing it. I read the quote below as saying he was offered the film and isn't doing it, but if he did a score it would be something along the lines of Clash of the Titans.
NP: Are you interested in working on a full film score?
MB: Me personally, yes, I'd be interested in. Not in the Muse style. Picking a film that the music would work. I've been offered to do some work on a remake of Clash of the Titans. It'll be really sort of mental music for a film like that. Totally different to Muse.