Anna Kendrick And Wackness Director Jonathan Levine Join Rogen/McAvoy Cancer Dramedy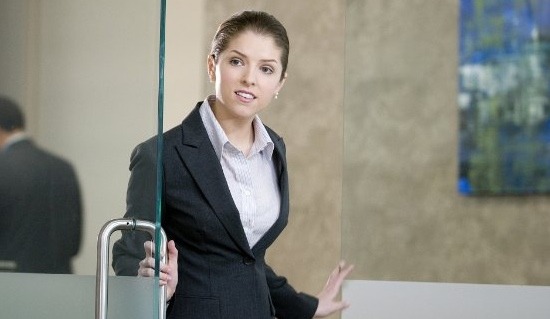 Twilight and Up in the Air star Anna Kendrick has been cast and Wackness director Jonathan Levine has signed to helm the very tentatively titled I'm With Cancer, an autobiographical story based on the experiences of Will Reiser, a producer on HBO's Da Ali G Show and VH1's Best Week Ever. Kendrick joins Seth Rogen and James McAvoy. Reiser's spec script tells the story of a 25-year-old who learns he has the disease. Nicole Holofcener (Lovely & Amazing, Friends with Money) was attached to direct when the project was announced in October 2008.
This project just keeps getting better. We've been singing the praises of Kendrick since first seeing her in the Sundance dramedy Rocket Science, and like everyone else, were very impressed with her part in Up in the Air. And if you've been reading the site for a couple years, then you'll know that we were one of the strongest supporters of Levin's coming of age film The Wackness, which sadly got mismarketed and dumped in the marketplace by Sony Pictures Classics. You can read the official press release after the jump.
DIRECTOR JONATHAN LEVINE JOINS MANDATE PICTURES' COMEDY GOLDEN GLOBE NOMINEE ANNA KENDRICK JOINS STARS JAMES MCAVOY AND SETH ROGEN PRODUCED BY SETH ROGEN, EVAN GOLDBERG and BEN KARLIN
Los Angeles (January 5, 2010) — Director Jonathan Levine ("The Wackness") has been hired to replace Nicole Holofcener as director of Mandate Pictures' untitled James McAvoy/Seth Rogen project (formerly "I'm With Cancer"). Anna Kendrick, hot off of her Golden Globe-nominated performance in "Up In The Air," has signed on to play the role of Katherine, a young psychologist assigned to handle Adam's case despite her lack of real life experience.
The film, which stars James McAvoy ("Wanted") and Seth Rogen, is written by Will Reiser and produced by Seth Rogen, Evan Goldberg and Ben Karlin. Reiser is executive producing along with Mandate president Nathan Kahane. Mandate's Tendo Nagenda is co-producing. The film will begin principal photography in February 2010 in Vancouver. Mandate International will be handling international sales at the European Film Market in Berlin next month.
McAvoy stars as a 25-year-old who learns he has cancer, a character based on the real experiences of screenwriter Will Reiser who was diagnosed with cancer in his mid-20s and successfully battled the disease over several years. This is Reiser's first feature project.
Jonathan Levine is best known for "The Wackness," a coming of age story set in New York City which he wrote and directed, starring Josh Peck and Ben Kingsley. Levine is represented by CAA, The Nervik Company and attorney Todd Stern of Weissmann Wolff Bergman Coleman Grodin & Evall LLP.
Anna Kendrick most recently starred in the critically acclaimed film "Up in the Air" with George Clooney. She can next be seen in "Scott Pilgrim vs. the World" with Michael Cera and the "Twilight" franchise based on the novels by Stephanie Meyer. Both films are set to be released in 2010. Kendrick is represented by CAA, Fifteen Minutes PR, and attorney Todd Rubenstein of Morris, Yorn, Barnes & Levine.
James McAvoy, Seth Rogen, Will Reiser, Evan Goldberg and Ben Karlin are represented by UTA.
Dan Freedman, Mandate's SVP of business affairs, negotiated the deals for the company.