Ron Howard To Direct Vince Vaughn Dramedy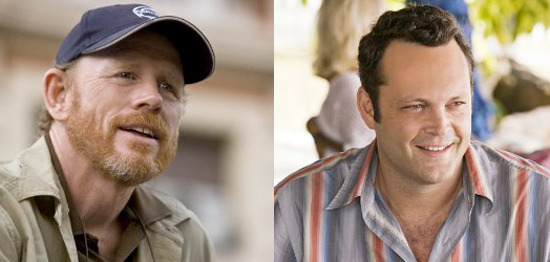 Ron Howard will direct Vince Vaughn in an untitled dramedy written by Allan Loeb (21, Things We Lost in the Fire), about a "man who learns that his best friend's wife is cheating and must then navigate treacherous waters to decide what do with that knowledge." Vaughn came up with the idea with Imagine topper Brian Grazer.
It will be strange to see Howard reverting back to his comedy background (Night Shift, Splash, Parenthood) especially since his recent years he's dealt mostly with more dramatic and action properties (Apollo 13, Ransom, A Beautiful Mind, The Missing, Cinderella Man, The Da Vinci Code, Frost/Nixon, Angels & Demons). And while he was the uncredited narrator and Executive Producer of the beloved comedy television series Arrested Development, his most recent comedy efforts, EDtv and The Grinch Who Stole Christmas, were slammed by both critics and audiences.That said, I think Vaughn works best in comedy that is set within more dramatic situations (Swingers, Made, and even The Break-up) as opposed to the more slapsticky, like Fred Claus.
source: THR