So... Is Back To The Future Coming To Blu-Ray This Year Or Not?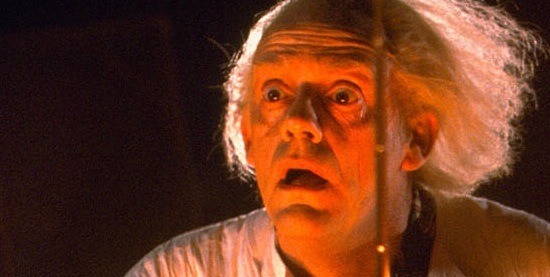 Break out the champers because the short answer appears to be yes. But why the confusion?
The story starts on December 28th, when Spanish home video site Zona DVD ran an Iberian equivalent of an April Fools joke and unveiled a spoof trade ad for Blu-ray releases of the Back to the Future trilogy. "5 Discs in High Definition" it declared, "Totally remastered and restored, supervised by director Robert Zemeckis". There's also a box-out which promises "New exclusive short film Jaws 19 in 3D". Looks immediately to me to be a fake, if a wonderfully well produced one, and you can see it in full below the break.
Check this out for a nice prank: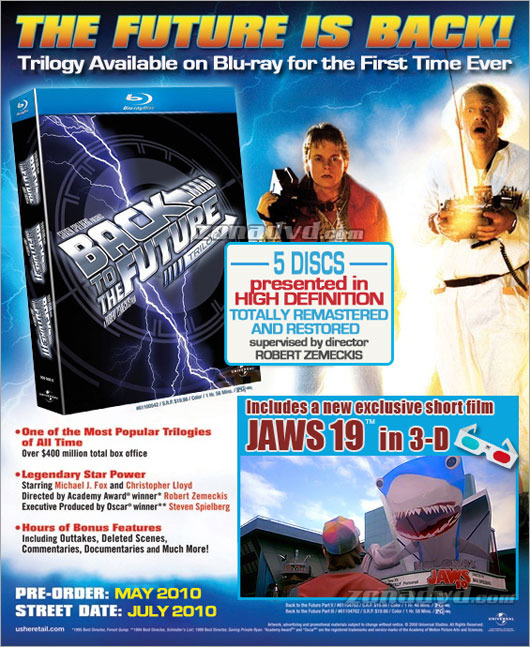 People started asking around as to whether this sellsheet was genuine, and of course some of these questions were directed at online disc mavens like Bill Hunt of The Digital Bits. His particular response was far from expected, however:
...we've gone back to our industry sources for confirmation on it, one way or the other. Just as I suspected, what you see above is authentic. It's the real deal. Now... do keep in mind that the title has NOT been officially announced yet by Universal. So the cover art, the details on special features and the July 2010 release window you see above are all SUBJECT TO CHANGE. But our sources tell us this IS real and the title IS coming to Blu-ray at some point later in 2010.
He was saying that this is a real trade ad? That Jaws 19 in 3D is real? But Zona have made it abundantly clear that they just made it up. Hunt had to go back and check again. This time, Universal seemed to clear things up somewhat:
They've just gotten back to us again this afternoon with word that the sheet IS fake. The reason it was thought to be authentic is that it was based on an authentic sellsheet for the recent DVD re-release, so the formatting was authentic. Regardless, we're made to believe that the title IS currently planned for Blu-ray Disc release later in 2010 – another factor that added to the confusion. So to summarize, the sellsheet is fake but the title is, in fact, real.
In the final evaluation, however, it looks very much as though before the year is out I'll be settling down with the Back to the Futures 1,2 and 3 in front of the biggest TV I can find. Superb.