Killing Bono, Not Quite A U2 Biopic, To Begin Filming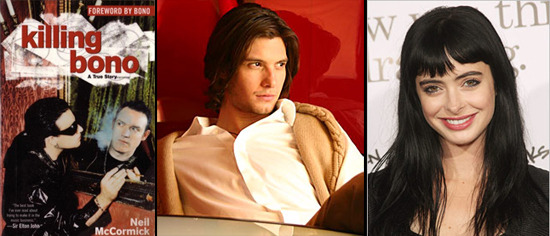 We've written briefly before about Killing Bono, a film based on the book by Neil McCormick. The author was a schoolmate of Bono's, and had his own band struggling in the shadow of U2 in megaband's early days. Directed by Nick Hamm, the film stars Ben Barnes as McCormick and Krysten Ritter in a tale that probably isn't nearly as close to a U2 biopic as many are going to assume. Come on — it's called Killing Bono! This is hardly the official story of U2.
Hamm's version of McCormick's novel, based on a script by Dick Clement and Ian La Frenais, starts shooting next week. A few more cast members have been added: Robert Sheehan, as McCormick's brother Ivan, with whom he forms a band, for one. Then Charlie Cox and Jason Byrne are in the mix, too.
Rather than a film about U2, what this should be is a story about not making it. As the book has been described, "The author of this exuberant rock memoir went to school with the members of super-group U2 and stayed friends with Bono (ne Paul Hewson) as he rose from garage-band front-man to rock colossus to world dignitary...But the book is less about the distant figure of Bono than about McCormick's feverish quest to emulate his success in a series of bands; he spent 10 thrilling, agonizing years on the brink of making it. The result is a funny, jaundiced celebration of rock 'n' roll fantasy and reality."
The obvious question is to what extent any of U2's music will appear in the film, and what they'll have to do with it in general. Despite the title, the relationship between McCormick and the band doesn't appear to be antagonistic, as Bono wrote the foreward to the book.