Box Office Overtakes DVD/Blu-Ray Sales For First Time Since 2002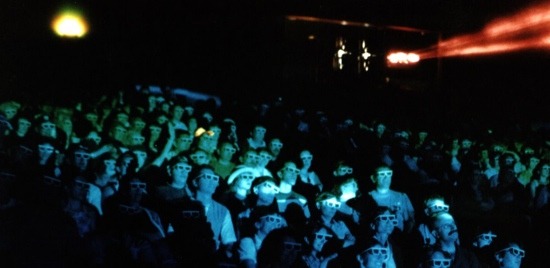 Reuters is reporting that for the first time since 2002, consumers in the United States spent more to see movies theatrically than purchasing films on Blu-ray and DVD. According to the figures from Adams Media Research, U.S. consumers spent an estimated $8.73 billion for movies on DVDs and Blu-Ray, a drop of 13 percent from the year before.
Blu-ray made up $1.1 billion of the year's movie disc sales as the numbers of players in U.S. homes grew from 3 to 8 million. The 2009 domestic box office receipts added up to $9.87 billion, up nearly 10 percent from the previous year. 3D films and IMAX presentations may account for the rise in box office gross as tickets are usually one third to double the average matinee price. The movie disc business peaked in 2004 with $12.1 billion in domestic sales, and with digital distribution, it is not expected to rebound. Hollywood is quick to place blame on piracy and movie disc rentals like Redbox and Netflix, which grew to $8.15 billion from $8.11 billion in 2008.
A grand total of $28.38 billion was spent by Americans on feature films in 2009, down slightly from the $28.47 billion in 2008. This figure a includes $1.27 billion spent on rentals through cable and satellite services, and $361 million spent renting/buying movies online.