Cool Stuff: Hot Toys' Terminator 2: Judgment Day: 1/6th Scale T800 Collectible Figure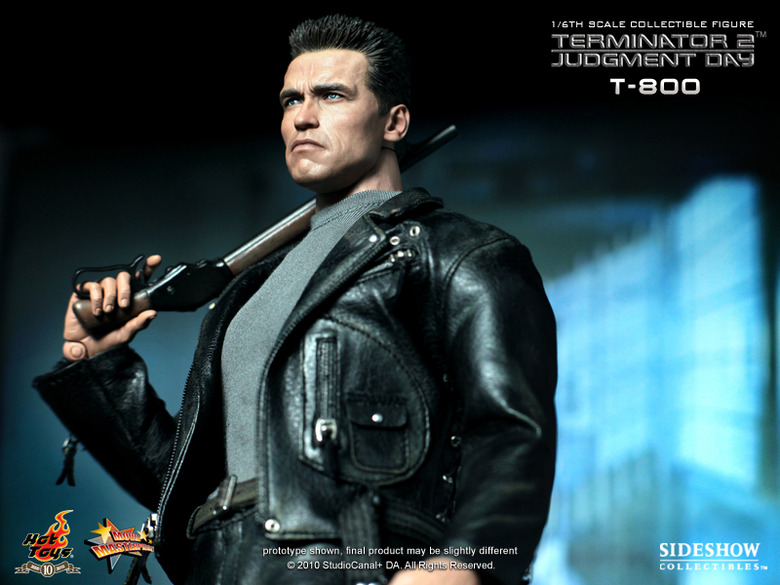 Hot Toys will be releasing a 1/6th scale T800 collectible figure from the Terminator 2: Judgment Day. The T800 figure is specially crafted based on the image of Arnold Schwarzenegger in the movie, "highlighting the newly sculpted muscular body and detailed head." The figure is expected to be released in April/May 2010.  More information and photos after the jump.
The 1/6th scale T800 specially features:
- Authentic and detailed fully realized likeness of Arnold Schwarzenegger as T800 in the movie Terminator 2
- Newly developed rubber upper body with PVC material limbs, further stands out the muscular body and which also highly imitates the genuine Arnold one in the T2 movie
- Stands even taller with approximately 32 cm height
- Over 30 points of articulations
-Two pairs of interchangeable palms (a pair of punches and a pair of relaxed palms) plus one right palm for holding the shotgun
- An interchangeable left forearm featuring bloody and articulated endoskeleton
- Each piece of head sculpt is specially hand-painted
More photos:
Detailed Accessories:
A pistol
A shotgun
Costume of black leather-like jacket and pants, grey-color T-shirt and black-color boots which imitates his style in the movie
A leather-like belt with buckle
Gold-color rose box with a bunch of 6 red roses
Black-lens sunglasses with black-color frame
Figure base with T800 nameplate and the movie logo
Artists:
Head Sculpted by Yulli
Body Sculpted by Joseph Tsang
Head Art Directed by JC. Hong
Head Painted by JC. Hong
Cool Stuff is a daily feature of slashfilm.com. Know of any geekarific creations or cool products which should be featured on Cool Stuff? E-Mail us at orfilms@gmail.com.