Terrible Captain America Film On Hulu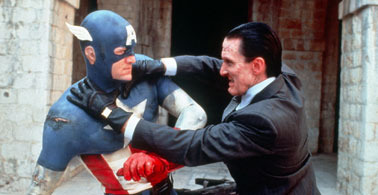 Albert Pyun's (Kickboxer 2 & 4) notoriously horrible Captain America is now up on Hulu. The film stars Matt Salinger as Steve Rogers/Captain America, who must save the President from his arch-nemesis Red Skull. We recommend watching with friends and beer for optimum enjoyment. I'd say we've learned a thing or two about comic book movies by now, but then Wolverine makes me wonder.
Thanks to /Film reader Oscar for the tip. View the film on Hulu, or embedded after the break.