Will James McAvoy Be Bond's Creator, Ian Fleming?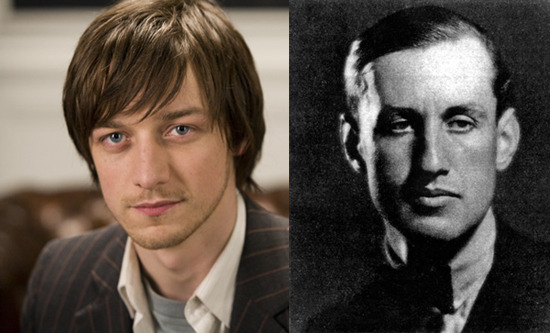 There have been a handful of television biopics of James Bond author Ian Fleming, the most famous of which actually starred Sean Connery's son Jason Connery as Fleming. Surprisingly, however, there's never been a big-screen version of his life. Development of the first one has been underway for some time, and now if reports are correct a very appropriate lead actor is attached to bring Bond's creator back to life.
Pajiba says that not only is Fleming biopic with the working title Ian Fleming currently financed in the range of $40m, it has James McAvoy attached as Fleming. The site's sources have gotten better recently, and this is a story that is easy to want to believe if only because McAvoy seems like such a tidy fit for Fleming.
The writer spent some of his life in the shadow of his father, Member of Parlianment, and older brother, a travel writer. But World War II brought Fleming into the Royal Navy's Naval Intelligence Division, in which he was quite active first as an assistant to the Director, then as a planner. That generated the background for James Bond, and elements of many Bond novels were drawn from operations and initiatives with which Fleming was involved during the war. Some of Bond's characteristics were autobiographical, as well.
Matt Brown's script, based in part on Andrew Lycett's book Ian Fleming: The Man Behind James Bond, will focus on the author's war years. There's enough material there to keep a biopic from being too dry and pagebound, and an actor like McAvoy would be ideal to capture both Fleming's early difficulties and the aspects of his personality that flourished during the war.
No director is currently attached to this film, and a schedule may have to work around projects like Wanted 2.