James Cameron's Avatar Continues To Break IMAX Box Office Records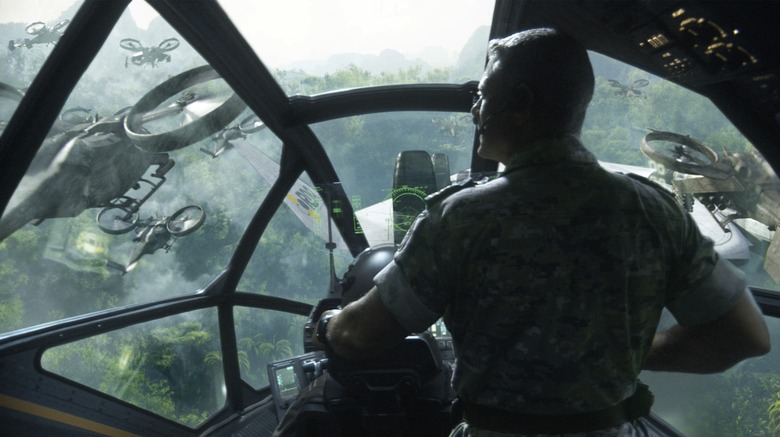 The IMAX Corporation has sent out a press release announcing that James Cameron's Avatar is continuing to shatter IMAX box office records. Highlights Include:
Domestic second weekend gross of approximately $8.8 million
International second weekend gross of approximately $3.6 million
IMAX theatres were in 17 of the top 20 locations nationwide
Read the full press release after the jump.
James Cameron's Avatar Continues to Shatter IMAX Box Office Records
IMAX Release Races to $39 million Worldwide in Ten Days
LOS ANGELES, Dec. 28, 2009  — IMAX Corporation (Nasdaq:IMAX) (TSX:IMX) and Twentieth Century Fox today announced that James Cameron's Avatar continued its record-breaking box office run during its second weekend, grossing approximately $8.8 million from 179 IMAX(R) theatres domestically from December 25 through December 27, 2009, registering approximately 12% of the film's total domestic gross of $75.6 million on less than 3% of the screens. IMAX theatres continued to operate at virtually full capacity all weekend, driving the domestic IMAX box office to date to approximately $28 million.
The IMAX international release posted an estimated total of approximately $3.6 million from 70 IMAX screens during the weekend, with the IMAX network in Poland and Japan posting record openings. The film is still scheduled to open on 11 IMAX screens in China and one in Argentina in the coming weeks. The worldwide IMAX box office total is more than $39 million as of the end of day Sunday, December 27, 2009.
Avatar is directed and written by Academy Award Winner James Cameron and stars Sam Worthington, Zoe Saldana, Stephen Lang, Michelle Rodriguez and Sigourney Weaver. Avatar has been digitally re-mastered into the unparalleled image and sound quality of The IMAX Experience(R).
"Consumers are clearly seeking out IMAX as the way to experience James Cameron's latest blockbuster, and this weekend's results reinforce how well this groundbreaking film plays to our audience," said IMAX CEO Richard L. Gelfond. "Avatar is well on its way to becoming our highest grossing Hollywood IMAX title."
"To have reached $39 million from 249 screens in just 10 days demonstrates that moviegoers clearly understand the value of experiencing Avatar in IMAX," added Greg Foster, Chairman and President of IMAX Filmed Entertainment. "James Cameron, Jon Landau and Lightstorm realized the vision of this film in IMAX, and we're continuing to see the incredibly positive way that moviegoers are responding to that vision."
Avatar is the story of an ex-Marine who finds himself thrust into hostilities on an alien planet filled with exotic life forms. As an Avatar, a human mind in an alien body, he finds himself torn between two worlds, in a desperate fight for his own survival and that of the indigenous people. More than ten years in the making, Avatar marks Cameron's return to feature directing since helming 1997's Titanic, the highest grossing film of all time and winner of eleven Oscars(R) including Best Picture. WETA Digital, renowned for its work in The Lord of the Rings Trilogy and King Kong, has incorporated new intuitive CGI technologies to transform the environments and characters into photorealistic 3D imagery that will transport the audience into the alien world rich with imaginative vistas, creatures and characters.
About IMAX Corporation
IMAX Corporation is one of the world's leading entertainment technology companies, specializing in immersive motion picture technologies. The worldwide IMAX network is among the most important and successful theatrical distribution platforms for major event Hollywood films around the globe, with IMAX theatres delivering the world's best cinematic presentations using proprietary IMAX, IMAX 3D, and IMAX DMR(R) technology. IMAX DMR is the Company's groundbreaking digital re-mastering technology that allows it to digitally transform virtually any conventional motion picture into the unparalleled image and sound quality of The IMAX Experience. The IMAX brand is recognized throughout the world for extraordinary and immersive entertainment experiences for consumers. As of September 30, 2009, there were 403 IMAX theatres (280 commercial, 123 institutional) operating in 44 countries.
IMAX(R), IMAX(R) 3D, IMAX DMR(R), Experience It In IMAX(R), An IMAX 3D Experience(R) and The IMAX Experience(R) are trademarks of IMAX Corporation. More information about the Company can be found at www.imax.com. You may also connect with IMAX on Facebook (www.facebook.com/imax), Twitter (www.twitter.com/imax) and YouTube (www.youtube.com/imaxmovies).