New Prince Of Persia Featurette Highlights The Sands Of Time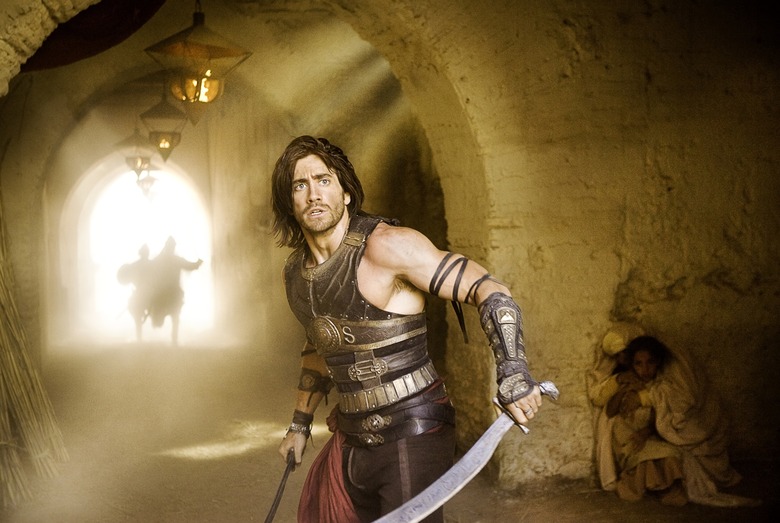 Disney's Prince of Persia: The Sands of Time, based on the UbiSoft reinvention of Jordan Mechner's classic video game, doesn't hit until May 28 2010. But Disney is apparently not so confident that the video game basis will translate to a large audience, so the studio has been pumping out images and footage since the first trailer debut last month. There's a new featurette out now which explains the movie's subtitle and gives some context for some of the trailer's swirling, sandy shots. Check it out below.
This clip quickly explains that the Sands of Time are contained within a dagger, which becomes the film's primary plot motivation. The sands control time, which in the games was a neat little trick that allowed players to rewind a short span of time, usually to counter a fatal mistake that they made. It's the sort of gameplay trick that players happily accept, because it allows them to do cool stuff and, more importantly, not die.
On film the dagger should be no more difficult to accept — there have been far sillier plot devices in big adventure films — but so far it primarily seems like motivation enough for some highly digitized, swirly sand effects. I don't doubt that there's much we haven't seen, but I do wonder if it'll be enough to make the effect really work.
I wasn't much convinced by the first trailer, which was cut in such a jagged fashion that it made the film look even more like a video game than the game it is based on. The better Prince of Persia games do a great job of capturing movement and the excitement of exploration, and that wasn't on display in the trailer at all.
Here's the official synopsis:
From the team that brought the "Pirates of the Caribbean" trilogy to the big screen, Walt Disney Pictures and Jerry Bruckheimer Films present PRINCE OF PERSIA: THE SANDS OF TIME, an epic action-adventure set in the mystical lands of Persia. A rogue prince (JAKE GYLLENHAAL) reluctantly joins forces with a mysterious princess (GEMMA ARTERTON) and together, they race against dark forces to safeguard an ancient dagger capable of releasing the Sands of Time—a gift from the gods that can reverse time and allow its possessor to rule the world.