Sundance Photo And Trailer Preview: Armless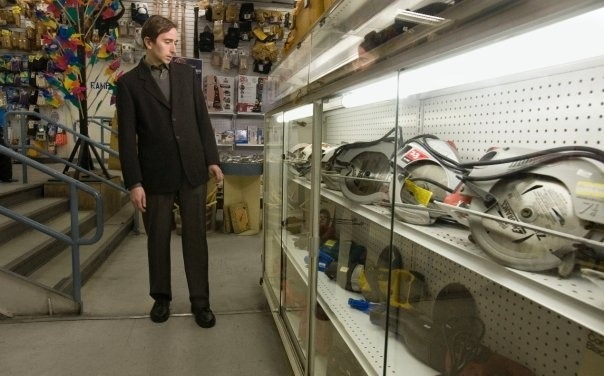 Habib Azar directed his first episode of As The World Turns at age 22, and has since directed over 100 episodes of the drama series, winning him a daytime emmy, as well as helming a handfull of plays and composing the music for a couple of operas. His feature directorial debut Armless will premiere at the 2010 Sundance Film Festival as part of the NEXT category, a new section composed of eight American films selected for their innovative and original work in low- and no-budget filmmaking.
Based on the award-winning play of the same name by Obie Award winner Kyle Jarrow, Armless is an off-kilter comedy about a woman who must comes to terms with her husband's strange secret, John wants to have his arms chopped off. Sundance calls the film "a deliciously twisted romp of comedic drama filled with mistaken identities, missed chances, and revealing consequences." After the jump you can see photos, a trailer, and the official plot synopsis.
Movie Trailer:
Photos:
Official Plot Synopsis:
A husband with a bizarre secret. A wife who's determined to learn it. A doctor who's desperate for some excitement in his life. A receptionist who's sick of excitement. And a mother with an Asian fetish. All these lives come crashing into one another in this quirkily funny, strangely poignant movie about love, lies, marriage... and amputation.
It's based on the award-winning play of the same name by Obie Award winner Kyle Jarrow, called "a sleek, taut comedic drama" by New York Magazine and "an affecting comedy [both] droll and humane" by The Village Voice. The first feature by Emmy Award winning director Habib Azar and featuring the talents of Janel Moloney (West Wing), Daniel London (Synecdoche, New York), Zoe Lister-Jones (Arranged), Matt Walton (Burn After Reading), Keith Powell (30 Rock), and Laurie Kennedy (Winter Passing, Law & Order).
Armless tells the story of a man who suffers from Body Integrity Identity Disorder, a real-life psychological condition in which an individual paradoxically doesn't feel "whole" unless he loses one or more major limbs. When he leaves his wife and goes to find a doctor willing to amputate his arms, it triggers a twisted romp filled with mistaken identities, missed chances, and tragic consequences. Armless utilizes the structure of a classic farce, combining it with a darkly philosophical tone. It also explores the ways in which a culture with so much wealth can come to fetishize suffering. But at its heart, Armless is a fable about acceptance—a meditation on trust, love and marriage.