Sundance Photo Preview: Josh Radnor's Happythankyoumoreplease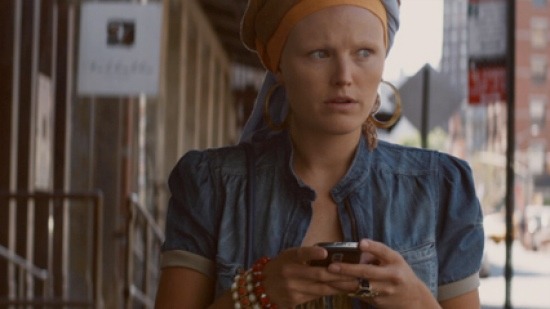 How I Met Your Mother star Josh Radnor makes his directorial feature debut with happythankyoumoreplease, one of 16 films selected from 1,058 submissions for the U.S. Dramatic Competition at the 2010 Sundance Film Festival. Written by Radnor, the dramedy tells the story of six New Yorkers who "negotiate love, friendship, and gratitude at a time when they're too old to be precocious and not ready to be adults."
Radnor worked on the script for several years, writing during down time from the CBS sitcom and shot in New York City during series hiatus. Radnor also co-stars in the film, alongside Malin Akerman (Watchmen), Kate Mara, Zoe Kazan, Tony Hale, Pablo Schreiber, and Michael Algieri. Akerman, pictured above, plaus Annie, a woman with a condition called Alopecia Universalis, which doesn't allow her to grow hair. I've included a few images after the jump, along with he official sundance synopsis.
Photos:
Official Sundance Synopsis:
Six New Yorkers juggle love, friendship, and the keenly challenging specter of adulthood. Sam Wexler is a struggling writer who's having a particularly bad day. When a young boy gets separated from his family on the subway, Sam makes the questionable decision to bring the child back to his apartment and thus begins a rewarding, yet complicated, friendship. Sam's life revolves around his friends—Annie, whose self-image keeps her from commitment; Charlie and Mary Catherine, a couple whose possible move to Los Angeles tests their relationship; and Mississippi, a cabaret singer who catches Sam's eye. Written, directed, and starring Josh Radnor (CBS's How I Met Your Mother), happythankyoumoreplease boasts a wryly funny script and engaging performances from its ensemble cast. With honesty and humor, Radnor captures a generational moment—young people on the cusp of truly growing up, struggling for connection, and hoping to define what it means to love and be loved.