Sundance Photo And Trailer Preview: Tucker & Dale Vs. Evil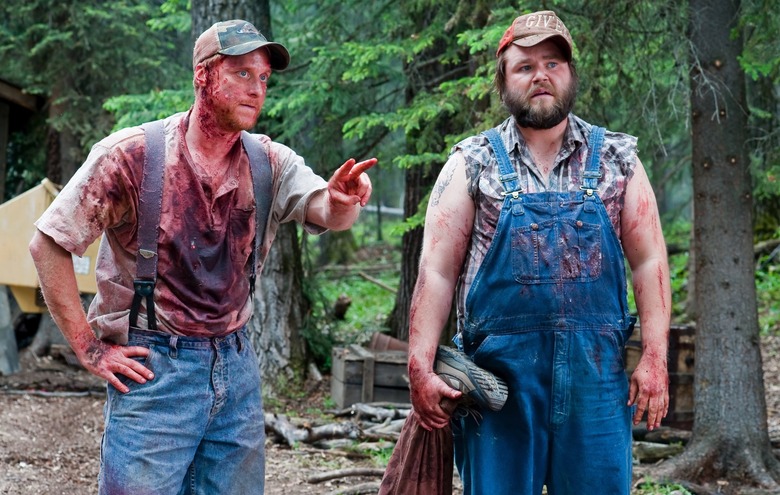 Eli Craig, director of the acclaimed short film The Tao of Pong, makes his feature directorial debut with the Canadian horror comedy Tucker & Dale vs. Evil, one of the films selected for the Park City at Midnight category of the 2010 Sundance Film Festival. Co-written by Morgan Jurgenson, the story follows two West Virginian hillbillies who go on vacation to their dilapidated mountain cabin, but their peaceful trip goes horribly awry when a bunch of college kids show up.
Basically, it's the story of the typical hillbilly horror film told from the other side. And as it turns out, the hillbillys aren't evil, and are only mistaken as psycho killers through a series of misconstrued circumstances. The film stars Tyler Labine, who most people will recognize from the television series Reaper, alongside Alan Tudyk, who most people will recognize from the television series Firefly. The film co-stars Katrina Bowden, Jesse Moss, Brandon Jay McLaren, Christie Laing and Chelan Simmons.
After the jump I've included the official sundance synopsis, the film festival poster, rough cut movie trailer, and a batch of production photos.
Poster: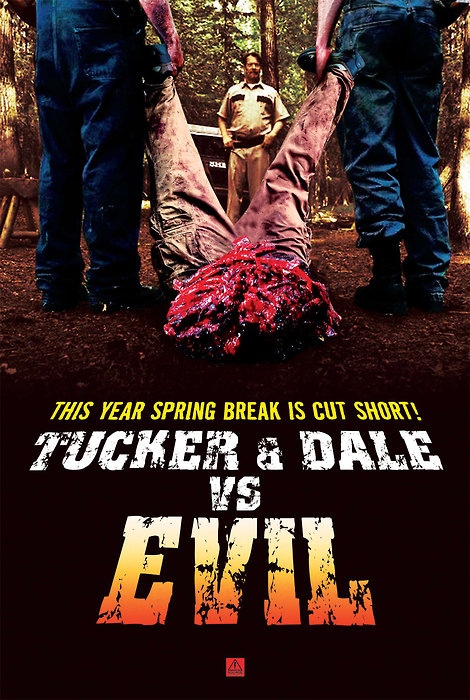 Movie Trailer:Official Sundance plot Synopsis:
"The hillbillies from the store captured Alison!" Tucker and Dale, two hillbillies heading to their "fixer-upper" cabin for some relaxin', discover they ain't alone in them woods. They encounter an SUV full of vacationing college kids, and Dale unintentionally creeps them out. But later, as he and Tucker are fishing, Dale rescues one of them—the pretty blond Alison—after she falls into the lake. Assuming she's been captured, the indomitably preppy college kids rally to find her. A comically macabre battle between Izods and overalls, Eli Craig's ingenious send-up of the horror genre recounts a simple misunderstanding gone grotesquely wrong. Our hillbilly psycho killers are actually sweet as pie; it's the judgmental college kids who have "issues." Craig lovingly embraces clichés, dispensing humor and gore in equal parts as we watch the educated class blunder to its demise. Nature, beer, and a rising body count—what better way to spend Memorial Day?
Gallery: