Repo Men Red Band Trailer And Poster: This Ain't Alex Cox's Vision Of The Repo Life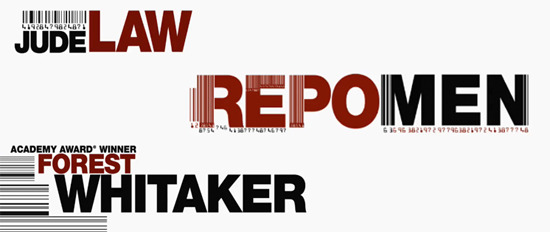 Repo Men is the film once called Reposession Mambo, which has been sitting on the shelf at Universal for a while. The movie has nothing to do with the Alex Cox classic Repo Man.
Instead it tells of a near future when human life spans have been greatly extended by expensive artificial organs created by a company called The Union. When people fail to make their payments for a fancy new liver or other piece of their gut, a team of surgical operatives are sent out to reclaim The Union's property. The film follows two of these guys, played by Jude Law and Forest Whitaker. Check out the first red band trailer to see what's in store.
I like Jude Law and love Forest Whitaker and Liev Schreiber, but despite the blood and guts this looks pretty routine. The actors have gone all in, no question, but there's not a lot of verve on display in this trailer. I was hoping for more from the feature debut from Miguel Sapochnik. Maybe there's a lot more to the movie than this suggests, but expectations are tempered for now.
Here's the official synopsis:
In the futuristic action-thriller Repo Men, humans have extended and improved our lives through highly sophisticated and expensive mechanical organs created by a company called The Union.  The dark side of these medical breakthroughs is that if you don't pay your bill, The Union sends its highly skilled repo men to take back its property...with no concern for your comfort or survival. Jude Law plays Remy, one of the best organ repo men in the business.  But when he suffers a cardiac failure on the job, he awakens to find himself fitted with the company's top-of-the-line heart-replacement...as well as a hefty debt.  But a side effect of the procedure is that his heart's no longer in the job.  When he can't make the payments, The Union sends its toughest enforcer, Remy's former partner Jake (Academy Award® winner Forest Whitaker), to track him down.
We don't currently have an embed of the red band clip, which you'll have to see by signing into Facebook. (Note: it's NSFW.) Click the link, or on the image below to check it out. Check out the poster below, too, and keep an eye on the official site for more info.