Taylor Lautner Can't Be Stopped: May Topline A Vision Quest Remake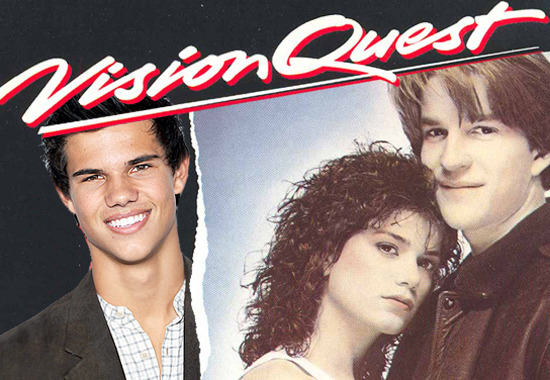 I hope Twilight fans are happy with the fast-growing monster that is Taylor Lautner. He's got two big movies in the works already (Max Steel and Cancun) and now he may star in a remake of the Matthew Modine coming of age film Vision Quest. This one would be comically appropriate, at least, as it would have Lautner as a kid who gets entangled with a slightly older woman while trying to prep for a wrestling match. But do we really need another version of Vision Quest?
E! News reports that Temple Hill Entertainment, one of the companies behind Twilight and the guys pushing Lautner's Cancun movie (which balances the fact that they're also doing movies like Gears of War and Dead Space) are getting the new Vision Quest off the ground.
The film, based on the novel by Terry Davis, is about a kid who decides to beat the best high school wrestler in the state, and receives little help from his dad and coach along the way. But single dad takes in a female boarder, and his infatuation with her makes it a bit difficult to concentrate on his goal. So does the presence of Madonna, who also made her movie debut as a singer in a bar.
In the original the age difference between Matthew Modine and co-star Linda Fiorentino (her first role!) was pretty small. He was 18, I think, and she was 21. Hardly scandalous. For this version, why not push it a little? Let's give the Twilight moms something to really think about while they take a bubble bath — make the Fiorentino character a lot older, and maybe add another high school-age love interest against whom she can compete. If this can be turned into full-on meta Twilight fanfic, it could do Dirty Dancing numbers. (Or Dirty Dancing 2: Havana Nights numbers, at least.)