This Week In DVD & Blu-Ray: District 9, (500) Days Of Summer, Extract, And More
This Week in DVD & Blu-ray is a column that compiles all the latest info regarding new DVD and Blu-ray releases, sales, and exclusive deals from stores including Target, Best Buy and Fry's.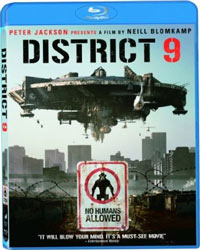 DISTRICT 9
(DVD available as single-disc and 2-Disc Edition)
Socially conscious though it may be, District 9 is not the piercing, thought-provoking apartheid allegory and complex examination of race relations that so many people seem to want it to be. But that's okay; it isn't trying to be. District 9 is a straight-up action film, and it makes that fact very clear after about the twentieth soldier that is gruesomely exploded by the aliens' seemingly lightning-infused weaponry. Its creative implementation of the mockumentary format is used foremost as a means of instilling a sense of reality to the proceedings, using socially relevant issues to set the stage for a much simpler, more cinematically spectacular transformation/aliens-vs-humans tale—not unlike last year's Oscar-winning sleeper Slumdog Millionaire, with the end result in that case being a classic tale of love and destiny. Though the basic plot elements are familiar, borrowing from movies like The Fly and Alien Nation, it's the way in which Neill Blomkamp tells this story that makes it so compelling. By playing with the archetypal protagonist introduction, and in doing so ditching the need for big name actors, Blomkamp provides the film with a sense of disorienting glee as the story unfolds and reveals its true intentions. At a certain point, he outright abandons the mockumentary set-up, and from that moment onward the movie propels itself through one dizzying, splatter-filled action sequence to the next. For some, this will be the point that the movie loses them. For me, it didn't matter, because the movie already had me. My eyes were hooked to the screen, unable to be pried away for even a second. It's by far one of the most exhilarating moviegoing experiences I've had this year, and a guaranteed contender for my Top 5 of '09.
Blu-ray? Yes.
Notable Extras: Single-disc DVD – A director's commentary, a 3-part documentary ("The Alien Agenda: A Filmmaker's Log"), and a Koobus Big Gun feature. 2-disc DVD & Blu-ray – Includes everything on the single-disc DVD, as well as additional featurettes ("Metamorphosis: The Transformation of Wikus", "Innovation: Acting and Improvisation", "Conception and Design: Creating the World of District 9", "Alien Generation: Visual Effects").
*Does not include 2-Disc Edition, which costs $20.77 at Fry's, and $22.99 at each of the other listed stores (including Amazon).
EXCLUSIVE DEAL:
What? Limited Edition Blu-ray Collector's Set ($29.99), featuring replica MNU vest/case cover and production notes.
Where? Best Buy.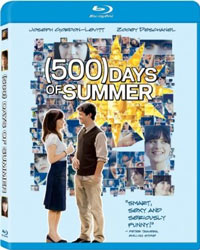 (500) DAYS OF SUMMER
(500) Days of Summer gives me hope for the romantic-comedy subgenre. It's such an improvement over the generic, shallow trash that has recently been attributed to the title, some may even have an opposing gut reaction to the claim that it is one. Realistically though, of course it is. What it's not is a "chick flick". If anything, this is a romantic comedy for guys, utilizing nonlinear storytelling and clever filmmaking tactics to explore how the false pretenses of the rom-com genre act as a direct contrast to reality (as it appears from a male perspective, anyway). Zooey Deschanel is as such perfectly cast as the Manic Pixie Dream Girl, a part she's undoubtedly accustomed to playing at this point. Our protagonist (wonderfully played by Joseph Gordon-Levitt) is so lost in his own lovelorn memories of their time together that he doesn't realize his perception of her is mostly an illusion, and as he reflects on those days and tries to come to terms with that fact, director Marc Webb takes full advantage of the film medium to make sure that journey is as exciting as possible. The end result is a movie that's as well made as it is smart, funny, and thoughtful—a rare combination.
Blu-ray? Yes.
Notable Extras: DVD – A commentary with director Marc Webb, actor Joseph Gordon-Levitt, and writers Michael Weber & Scott Neustadter,, and deleted & extended scenes. Blu-ray – Includes everything on the DVD, as well as a Making (500) Days of Summer featurette, 2 audition tapes for Geoffrey Arend and Matthew Gray Gubler, storyboards, a "Sweet Disposition" music video by Temper Trap, 6 Conversations With Zooey and Joseph, Bank Dance Directed By Marc Webb, Filmmaking Specials, and a digital copy of the film.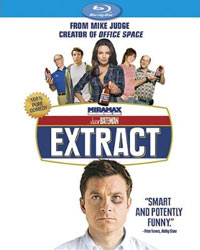 EXTRACT
Lacking the same comic momentum that made Mike Judge's workplace satire Office Space such a splendid mix of sometimes discomforting, sometimes thoroughly gratifying hilarity, Extract isn't like to find success on home video the same way that film did. It has all of the same amusing elements in place, with Judge yet again finding the comedy in those small details that define our humdrum lives, but doesn't seem to know what to do with them. There's never any proper sense of build-up, or more importantly, payoff; the stakes are raised, and then the film just sort of fizzles out. Even so, the film manages to remain engaging throughout, moving from one quietly funny scene to the next, with the always awkwardly charming Jason Bateman in the middle of it all. Judge and Bateman make a great director-actor pairing, as Bateman can bring out the funny in a scene with no more than a subtle reaction shot, and that pays off considerably when coupled with Judge's satirical portrayals of average American simpletons. The film as a whole may not cohere as well as it should, but like Idiocracy, there are more than enough scenes that highlight the best of what Judge has to offer, so it's at least deserving of a rental.
Blu-ray? Yes.
Notable Extras: DVD – A behind-the-scenes featurette ("Mike Judge's Secret Recipe"). Blu-ray – Includes everything on the DVD, as well as five extended scenes and one deleted scene.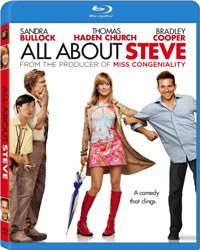 ALL ABOUT STEVE
Based on its trailer, All About Steve looks to be exactly the kind of offensively bad tripe I was condemning in my (500) Days of Summer write-up. It currently holds a dismal 6% on Rotten Tomatoes, with reviews confirming my suspicions that the movie blatantly encourages the psycho-stalker behavior of its socially retarded protagonist. It also features a scene where Sandra Bullock, as Mary, explains her red go-go boots: "I wear these boots because they make my toes feel like 10 friends on a camping trip." Each time I read that quote, it takes me a full ten minutes to unfurrow my brow.
Blu-ray? Yes.
Notable Extras: DVD – Commentary by director Phil Traill, writer Kim Barker, and actors Sandra Bullock, Thomas Haden Church, Bradley Cooper, and Ken Jeong, an All About All About Steve featurette, 9 deleted scenes, a gag reel, and Crew Snapshots To Mary's Rap. Blu-ray – Includes everything on the DVD, as well as Take A Stab At Vocab feature, a Fox Movie Channel Presents Casting Session featurette, and a digital copy of the film.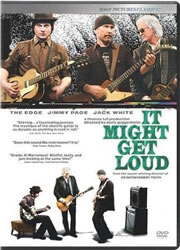 IT MIGHT GET LOUD
A documentary examining the history of the electric guitar, It Might Get Loud unites three major talents—Jimmy Page (of Led Zeppelin and The Yardbirds), The Edge (of U2), and Jack White (of The White Stripes)—and explores how they used the electric guitar to shape their own unique sound and style. It currently holds a 78% on Rotten Tomatoes. The trailer can be found here.
Blu-ray? Yes.
Notable Extras: DVD & Blu-ray – A Toronto Film Festival Press Conference featurette.
Other noteworthy DVD (and Blu-ray) releases this week...
Family Guy Presents: Something Something Something Dark Side [DVD / Blu-ray] – ICHI: The Movie [DVD / Blu-ray] – Beyond a Reasonable Doubt [DVD / Blu-ray] – American Pie Presents: The Book of Love [DVD / Blu-ray] – Kyle XY (The Final Season)

NOTE: Some deals may be in-store only.

Exclusive: Collector's Set ($29.99) for Family Guy Presents: Something Something Something Dark Side. Includes Blu-ray, T-shirt and lunch box.
50% off all HBO series...
$119.99 – The Sopranos (Complete Series)
$99.99 – Sex and the City (Complete Series)
$89.99 – The Wire (Complete Series)
$74.99 – Six Feet Under (Complete Series), Deadwood (Complete Series)
$42.49 – Rome (Complete Series)
$32.49 – Band of Brothers (Complete Series)
$27.49 – John Adams (Complete Series), True Blood (Season 1)
$16.99 – Entourage (Season 5)
$13.49 – Eastbound & Down (Season 1)
$12.49 – Flight of the Conchords (Season 2)