Cool Stuff: Under The Influence Art Show: Masters Of The Universe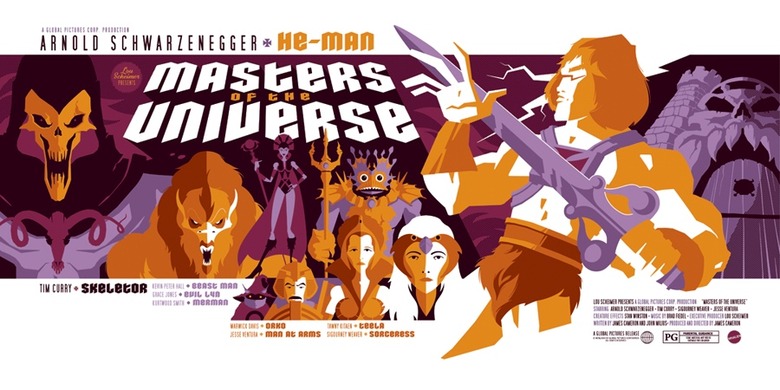 Each year Gallery 1988 holds a "Under The Influence" art show. In years past, they've done tribute shows to the Beastie Boys and Stan Lee. This year's honoree is a tribute to He-Man and The Masters of the Universe. Over 100 artists are contributing to the exhibition, each contributing their "unique vision of the wonderfully rich fantasy world of eternia." Tis includes some of our favorite artists, which we've featured on the site in past editions of Cool Stuff. Check out 24 pieces of art from the show, after the jump.
The awesome faux movie poster above was created by Tom Whalen, who we've featured many times in past editions of Cool Stuff (posters, Dark Knight magazine cover, Watchmen art, The Shining and The Warriors, Predator, 80's super villains, Army of Darkness poster). Here is a note from Whalen about the poster:
i had a blast casting my dream "masters" movie. of course, all of the actors/actresses were my personal favorites from 80's movies, from tim curry as skeletor to kevin peter hall (of predator fame) as "beast man" to sigourney weaver as sorceress, all topped off by the only person big enough to play he-man...arnold schwarzenegger! the poster is 20"x10", will be a limited edition run of 83 (get it? the show debuted in 1983!) and will be available at the opening and online or by phone after the opening.
You can see more of Tom's wonderful artwork on deviantart.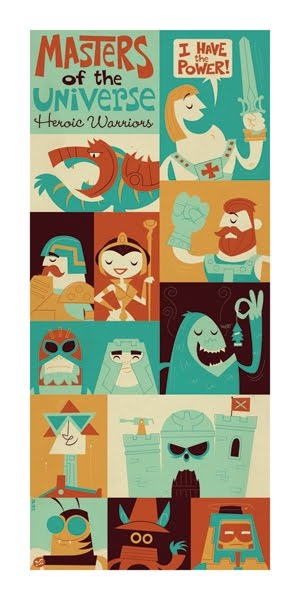 You have also seen some of Dave Perillo's art in past editions of Cool Stuff (Random art, Watchmen, The Joker, Ghostbusters, Goonies, Pee-Wee).  The piece above is titled "Heroic Warriors", and will be available as a 10" x 20" limited edition print of only 40 available through the gallery starting January 8th. He has also completed a "Evil Warriors" verision which will be available the same day. Check out more of Perillo's art on deviant art.
Other art below includes He-Man and Skeletor getting haircuts by Kiersten Essenpreis, Sorceress by Danielle Rizzolo, Trapjaw by Jason Goad, Garbage Pail Kids Parody by Layron DeJarnette, Battle Bones by Jude Buffum, Skeletor Atop a Throne of Skulls by Keith Noordzy, The Bad and the Ugly by Alex Fugazi, Mug Shots from Eternia, Or, Lesser Known Villains and Crooks of this Enchanted Land by Brennan Kelly, The Rest of the Princess of Power and Just kidding at Castle Greyskull  by Alessandra Fusi, Battle Cat and Cringer by Bill Carman, and others.
Under The Influence: Masters of the Universe opens on Friday, January 8th 2010 from 7-10pm at Gallery 1988, 7020 melrose avenue in Los Angeles, CA 90038.Cool Stuff is a daily feature of slashfilm.com. Know of any geekarific creations or cool products which should be featured on Cool Stuff? E-Mail us at orfilms@gmail.com.

Thanks to Superpunch for pointing me in the right direction.