Sundance Photo/Trailer Preview: Boy, From The Director Of Eagle Vs. Shark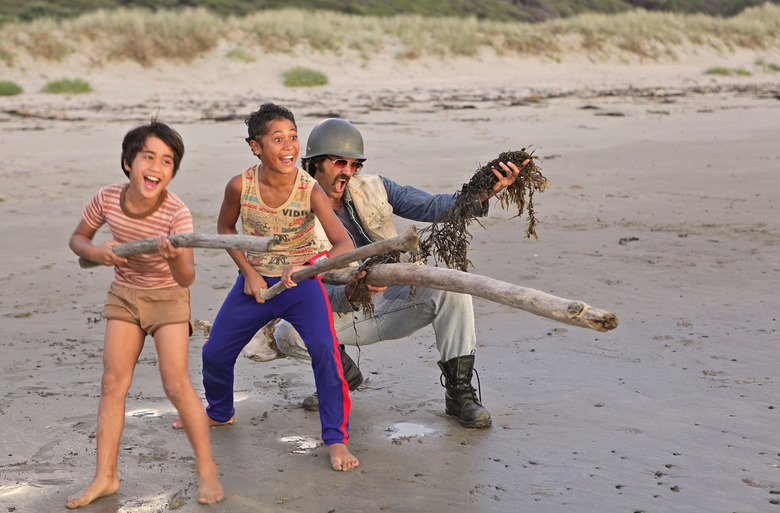 Taiki Waititi's indie comedy Eagle vs. Shark (which featured a pre-Conchords Jemaine Clement) was one of my favorite films from the 2007 Sundance Film Festival (I was even quoted on the international DVD cover). Waititi returns to Sundance in 2010 with Boy, which will screen in competition as one of this year's 14 films were selected from 1,022 international narrative feature submissions.
The  Te-Whanau-a-Apanu filmmaker's new film tells the story of an 11-year-old Boy and his little brother Rocky who must reconcile reality with the fantasy dad they created in their imagination after their father returns home after many years away. Originally titled Volcano, the film stars Taika Waititi, James Rolleston, and Te Aho Eketone. Check out photos from the film, and the trailer, embedded after the jump.
Here is the official plot synopsis:
It's 1984, and Michael Jackson is king-even in Waihau Bay, New Zealand. Here we meet Boy, an 11-year-old who lives on a farm with his gran, a goat, and his younger brother, Rocky (who thinks he has magic powers). Shortly after Gran leaves for a week, Boy's father, Alamein, appears out of the blue. Having imagined a heroic version of his father during his absence, Boy comes face to face with the real version-an incompetent hoodlum who has returned to find a bag of money he buried years before. This is where the goat enters.
Photos:
Trailer:
trailer via: quiet earth