Cloudy With A Chance Of Meatballs Directing Duo In Talks For Jonah Hill's 21 Jump Street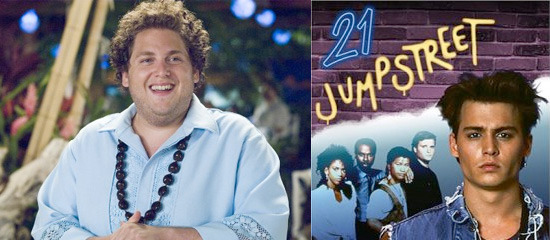 Jonah Hill's upcoming 21 Jump Street remake is getting weirder (and more awesome) the more we hear about it. First, Hill mentioned that he wanted to make a "Bad Boys meets John Hughes" R-rated action film, and now we've learned that Cloudy with a Chance of Meatballs directors Phil Lord and Christopher Miller are in negotiations to direct. I personally loved the heck out of Cloudy, and have firmly committed myself to following Lord and Miller's careers very closely. The duo also created the MTV animated series Clone High, and have written and co-exec produced for How I Met Your Mother. Basically, they rank high on the scales of awesome.
The original series was about young looking cops who went undercover to tackle youth crimes, and notably featured Johnny Depp among its cast. Hill has even mentioned that he has a part in the film for Depp, if he wants it.
An earlier quote from Hill on the project via Complex:
[Sony execs said] they were gonna let me make my kind of movie—an R-rated, insane, Bad-Boys-meets-John Hughes-type movie—and I told them the second they don't, I'm not gonna be involved anymore. We're not even spoofing the movie. It's not strictly comedic, either. We're doing a full-on action movie, blowing shit up.
Clearly, it doesn't seem like they're going to try and emulate the original series too much. If anything, I'm getting a real Hot Fuzz/Pineapple Express vibe from his description.
I don't have any great attachment to the original 21 Jump Street, so I'm all for Hill and Bacall doing something completely different. And if Lord and Miller are involved, even better.