Wes Craven's New Killer Revealed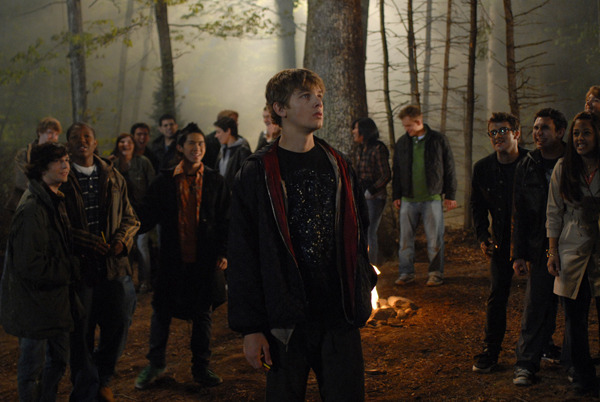 Wes Craven's next thriller, and the first that he's written himself since New Nightmare, has settled on the title My Soul to Take. I first heard of it by the name of Bug, then it was 25/8 – as in 24/7 but one louder. After the break, there's a picture of the film's evil killer and, apparently, this image is something of a spoiler. Click on at your own peril.
Here's the official synopsis for the film, which also seems to be giving an awful lot away:
In the sleepy town of Riverton, legend tells of a serial killer who swore he would return to murder the seven children born the night he died. Now, 16 years later, people are disappearing again. Has the psychopath been reincarnated as one of the seven teens, or did he survive the night he was left for dead? Only one of the kids knows the answer.
Adam "Bug" Heller (Max Thierot) was supposed to die on the bloody night his father went insane. Unaware of his dad's terrifying crimes, he has been plagued by nightmares since he was a baby. But if Bug hopes to save his friends from the monster that's returned, he must face an evil that won't rest...until it finishes the job it began the day he was born.
So, here's the image. It might mean very little now, but it's reputedly quite the spoiler once you know anything of how the story starts to play out. It was originally posted on the MySpace page of stuntman Manny Siverio and then appeared on Bloody Disgusting, who have since removed the page, no doubt playing along with some plot-twist cover up.
[No photo]
Craven has actually suggested that this killer only appears in scenes from an "additional shoot", which would mean he didn't appear on screen in the original version of the film.  This ultimately suggests Craven never intended there to be a killer on screen in the movie. Very interesting...
Shock Till You Drop previously ran the following quote:
We had a talented storyboard artist. We were doing an additional shoot and I said to my wife Iya, who's the producer, I still don't quite know what the bad guy looks like. Let's get a conceptual artist. We [described] this is where the man comes from. He's kind of a figure who lives under the river, sleeps under the bridges, deep in the woods – he's been that way for sixteen years. Eats bark. And [the artist] came back the next day with this fabulous rendering he did in Photoshop. Everybody sparked off of that and all of the special effects makeup artists started to pool around it.
I'm a great fan of Craven's. Even his goofier films like Shocker and The People Under the Stairs run head first at some great ideas, and his more perfect pieces, like the original Nightmare on Elm Street and Scream, feel neat, complete and timeless to me. Whatever he's driving at with My Soul to Take (and reading between the lines, I think I've got some idea) I'm sure it will be something resonant and intriguing.
As far as I'm concerned, this one can't come along soon enough.