Toy Story 3 In IMAX 3D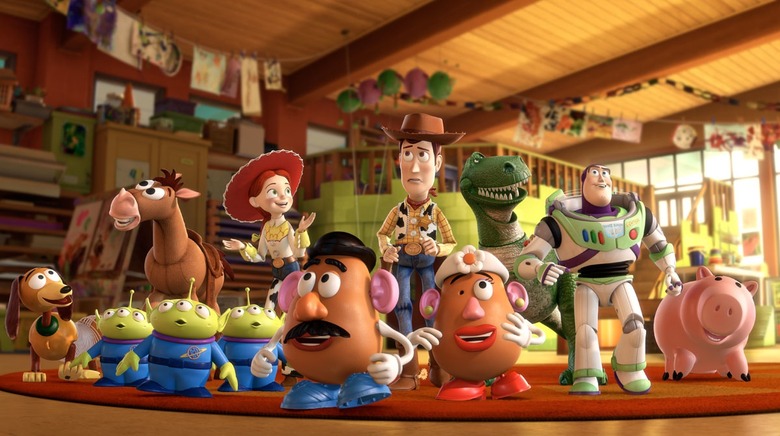 Disney has announced that Pixar's Toy Story 3 will be released in IMAX 3D on June 18, 2010, simultaneously with its wide release. This would be the first Pixar film released in IMAX. I'm not usually a fan of films blown up from 35mm to IMAX, but 3D films are a bit different. The brightness of the IMAX projection means little to no loss in color and brightness, a big complaint about the smaller screen 3D systems like Real D and Dolby. Any with Pixar films, you don't want the colors to be dim or any less bright than they were intended. Also, for me, the large IMAX screen created a more immersive 3D experience than the normal sized-screen presentations. Full press release after the jump.
Disney's Toy Story 3 to be Released in IMAX(R) 3D on June 18, 2010
Movie Marks Fourth Disney/IMAX 3D Release in Multi-Picture Partnership; First Pixar and IMAX(R) 3D Title
LOS ANGELES, Dec. 18, 2009 (GLOBE NEWSWIRE) — IMAX Corporation (Nasdaq:IMAX) (TSX:IMX) and Walt Disney Studios Motion Pictures today announced that Toy Story 3, the third installment of the blockbuster hit franchise Toy Story, will be released to IMAX(R) 3D theatres simultaneously with its wide release on June 18, 2010. Toy Story 3 will be digitally re-mastered into the unparalleled image and sound quality of The IMAX Experience(R) with proprietary IMAX DMR(R) (Digital Re-mastering) technology.
Commenting on the announcement Bob Chapek, president, Distribution, The Walt Disney Studios, said, "We're very excited to once again unite Disney Digital 3D with The IMAX Experience, and to do it for the long-awaited release of Toy Story 3 is a real treat. A film like this is designed to take audiences on an exciting thrill-ride adventure, making it a perfect match for both 3D and IMAX."
"We have always envisioned the Toy Story franchise as an ideal fit for The IMAX Experience and we're very happy to finally turn that vision into a reality," said IMAX CEO Richard L. Gelfond. "This film also fits nicely into our 2010 lineup, ensuring that families will be able to start the summer holidays with a fun Disney release in IMAX."
"Pixar's beloved films have changed the way people go to the movies. IMAX is proud to be working with both Pixar and Disney, who like IMAX, strive to transport moviegoers to incredible places that people only dream about visiting," added Greg Foster, Chairman and President of IMAX Filmed Entertainment. "In IMAX 3D and through the power of Randy Newman's incomparable music, audiences will be able to see and hear Woody, Buzz, and the rest of the larger than life characters of Toy Story in a whole new way."
The creators of the beloved "Toy Story" films re-open the toy box and bring moviegoers back to the delightful world of our favorite gang of toy characters in Toy Story 3. As Andy prepares to depart for college, Buzz, Woody and the rest of his loyal toys are troubled about their uncertain future. Directed by Lee Unkrich (co-director of "Toy Story 2" and "Finding Nemo"), Toy Story 3 is a comical new adventure in Disney Digital 3D(TM) that lands the toys in a room full untamed tots who can't wait to get their sticky little fingers on these "new" toys. It's pandemonium as they try to stay together, ensuring "no toy gets left behind." Meanwhile, Barbie comes face to plastic face with Ken (yes, that Ken). Pixar veteran Darla K. Anderson ("Cars," "Monsters, Inc.") produces, while Michael Arndt, Academy Award(R)-winning screenwriter of "Little Miss Sunshine," brings his unique talents and comedic sensibilities.
About IMAX Corporation
IMAX Corporation is one of the world's leading entertainment technology companies, specializing in immersive motion picture technologies. The worldwide IMAX network is among the most important and successful theatrical distribution platforms for major event Hollywood films around the globe, with IMAX theatres delivering the world's best cinematic presentations using proprietary IMAX, IMAX 3D, and IMAX DMR technology. IMAX DMR is the Company's groundbreaking digital re-mastering technology that allows it to digitally transform virtually any conventional motion picture into the unparalleled image and sound quality of The IMAX Experience. The IMAX brand is recognized throughout the world for extraordinary and immersive entertainment experiences for consumers. As of September 30, 2009, there were 403 IMAX theatres (280 commercial, 123 institutional) operating in 44 countries.