Sundance Photo/Trailer Preview: Obselidia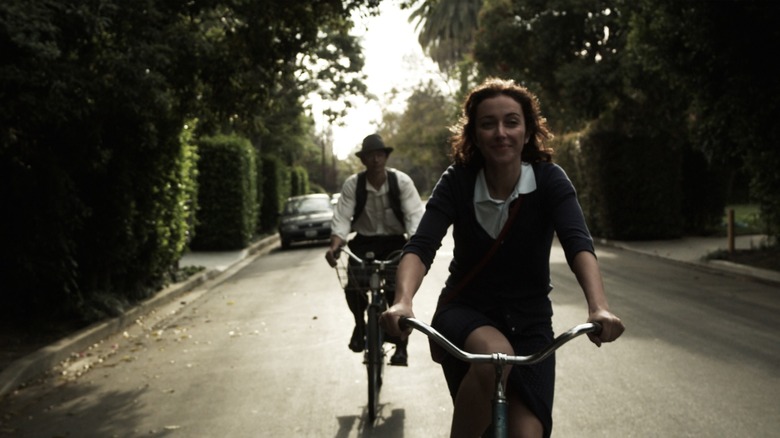 Director/screenwriter Diane Bell's Obselidia is one of 16 films selected from 1,058 submissions for the Dramatic Competition for the 2010 Sundance Film Festival. Described as a "save-the-world love story", the film tells the story of a lonely librarian believes love is obsolete until a road trip to Death Valley with a beguiling cinema projectionist teaches him otherwise. Shot on the Red Camera, featuring a score by UK musician Liam Howe (Spin Spin Sugar, 6 Underground) and starring a mostly unknown cast Gaynor Howe (Home and Away), Michael Piccirilli, and Frank Hoyt Taylor. Sundance calls the film "soft spoken, profound, and disarmingly charming" offering a "rare and humane lens through which we can view a world increasingly preoccupied with and inhabited by extinction." A few more photos, trailer and poster, after the jump.
Movie Trailer:
Here is the official plot synopsis:
Ever feel like the whole world is disappearing? Species by species, technology by technology – everything you know and love is becoming obsolete. That's how George, a lonely librarian feels and why he's writing The Obselidia, an Encyclopedia of Obsolete Things. He wants to record it all, to catalogue the world before it's gone. OBSELIDIA, beautifully written and directed by Diane Bell, tells the story of George Ruben (Michael Piccirilli), a man out of step with the 21st century who is pathologically nostalgic for things that used to be and never will again. George's obsession with chronicling all things obsolete even believes that love is obsolete.
On his quest to catalogue critically endangered occupations, George meets the beautiful Sophie (Gaynor Howe), a cinema projectionist who works at a local art house movie theater. Sophie's a vivacious free spirit, who lives life in the moment and rarely stops to look back. She romantically believes that nothing is obsolete so long as someone loves it. New to LA and a little lonely after breaking up with her long time boyfriend, Sophie pursues a friendship with George. She allows him to interview her about her own work for The Obselidia – and she becomes fascinated by this guy who's quite unlike anyone she's ever met. He doesn't use a computer, he doesn't own a car, and he seems so earnest and sincere.
When Sophie learns that George is planning a trip out to Death Valley, via public transport, in order to interview a maverick scientist, Lewis Fordham (Frank Hoyt Taylor) who is predicting the eminent end of the world, she steps in and insists that she drive him. With a soundtrack composed using an orchestra of obsolete instruments and sounds, adding to the quirky romantic feeling of the film, OBSELIDIA is a sweet, romantic journey in which two people meet, go on a journey together and are forever changed. Stunning cinematography driven by beautiful storytelling, OBSELIDIA is sure to be one of this year's little break-out festival gems! Don't miss it!!! It will change your life as well.