/Film UK - Andy Serkis Enjoys Sex & Drugs & Rock & Roll, Grown Women Dressed As Schoolgirls, A Man Hitting A Woman, A Possessed Chicken And More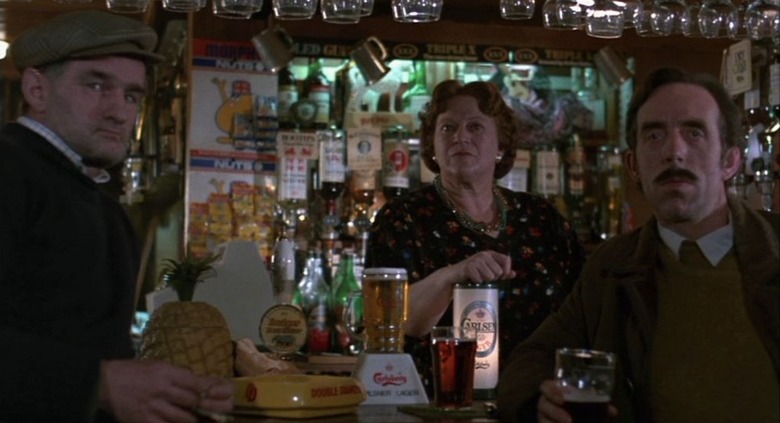 Coming to you weekly from my vantage point in good old Blighty, it's Slashfilm UK. Anglos and Anglophiles rejoice as every Friday I'll be bringing you a round up of news, links and coverage specific to the motion picture comings and goings here in the UK. Sometimes we'll be talking about films that have already played in the US, other times it will be films that won't make it to the US for a good while yet, and from time to time you'll read about films that will never make it to the US at all.
The UK Blu-ray release of Shane Acker's 9 will come in two editions, one of which has a 60-page hardback book with it. I'm absolutely convinced I coined the word Stitchpunk when writing about this film. The studio then used it in the marketing materials, so I guess I should be flattered.
Andy Serkis is playing Ian Drury (who I smuggled into an Avatar post last night) in the biopic Sex & Drugs & Rock & Roll. The film hits UK cinemas on January 8th, and the trailer and poster have finally debuted. Looks pretty promising.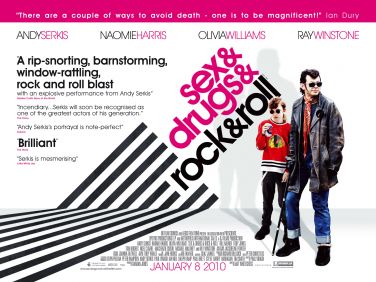 Neve Campbell says that nobody knows why she's in Britain. I do – it's because she's lived here for five years with her husband, RSC actor John Light. I know this because I read it in The Telegraph.Quiet Earth have three clips from the BBC's Day of Triffids... of which, more talk later. Here's one of the clips now:
The London Film School have made Samantha Morton an honorary associate. Screen Daily also report that the school has been selected to run an "emerging talent" workshop next year. They're calling it Hothouse and saying it will "cover a wide range of issues from ideas through to packaging options; and aims to equip students will workable projects that are tied to realistic financial plans."
The European Film Awards were given last weekend. The White Ribbon was honoured as Best Film, and Michael Haneke as Best Director and Best Screenwriter. The People's Choice was given to Slumdog Millionaire.
The UK teaser trailer for Yang Ik-June's Breathless is short but not very sweet. Downright vicious, in fact. Ouch.
According to The Hollywood Reporter, David Mamet's next screenplay is to be produced by a British company. Firefly, from Britain, are linking arms with LA's Bla Bla Bla to get Come Back to Sorrento on screen. It will be an adaptation of Dawn Powell's 1932 novel, originally published as The 10th Moon. I'm told it's about people who live lives of deception – so Mamet should be right at home. Director Michael Worth will be working with a cast of Mamet stalwarts including William H. Macy, and Mamet and Macy's spouses Rebecca Pidgeon and Felicity Huffman.
According to Bloody Disgusting, Zombeak is getting a UK DVD release in March. It has a possessed chicken storyline that just begs to be double-billed with Troma's Poultrygeist.
I couldn't go to the Sally Potter and Tilda Swinton Q&A at the BFI because I was detained on a work mission, but I'm glad to say the whole thing has been uploaded to the interwebz. Here it is:
Shock Till You Drop have a set report from a London strip club where the gangsters vs. vampires satire Dead Cert was being filmed. This film has had an incredibly speedy trip from script to screen, with the producers first reading the screenplay in July of this year and post production already underway. If only everything could be so efficient.Mike Figgis contributed this image to the Artsadmin 30th anniversary portfolio, as seen at The Guardian.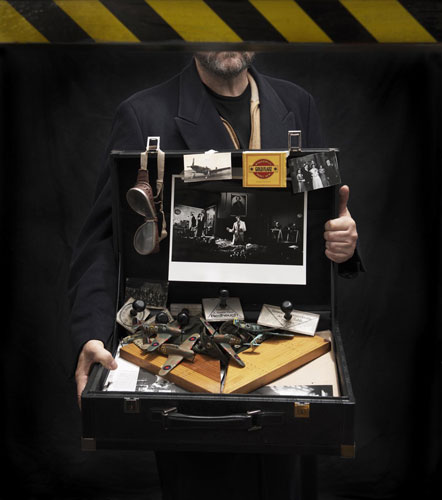 Blu-ray.com suspect that the UK will be getting Finding Nemo on hi-def disc in May, with no indication of any US release. We trumped the States nicely with Monsters Inc. too, getting a lead time of around four months.
Out today is the second St. Trinian's film, The Legend of Fritton's Gold opens today across the US. It has David Tennant stepping in for part 1's Russell Brand as the 'too cool for this school' guest star. Consider this trailer a de facto promotional tool for Avatar.
Hugh Grant got drunk and bought a Warhol portrait of Elizabeth Taylor, then later sold it for an £11 million profit. He "slightly regrets" selling it now, he tells The Daily Mail. Let's see if Have You Heard About the Morgans? does anything at the box office to change his mind about that.
Here's the new UK Quad for The Princess and the Frog, courtesy of Empire. They have a slightly bigger version.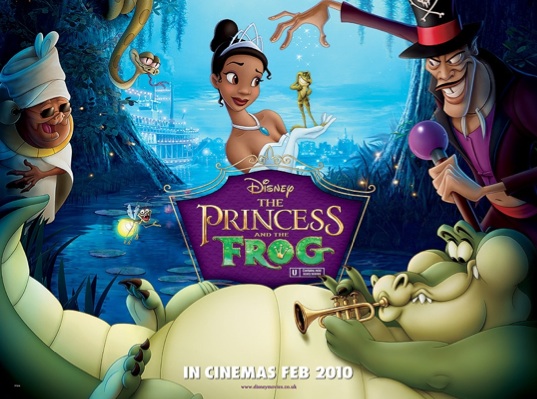 None other than Sam Lowry himself, Jonathan Pryce was awarded the CBE this week. He accepted it as "recognition of the importance of the theatre in Britain and how much it means to the people and economy". He's definitely one of my favourite actors, but it seems one has to go to the theatre to see him in much of anything any good these days. I guess GI Joe paid for him to take a few low paying stage roles.
Talking of theatre, a West End production of The Little Dog Laughed is in rehearsal right now. Starring Gemma Arterton, Rupert Friend, Tamsin Grieg and Harry Lloyd, the play is a satire on Hollywood stars who stay in the closet for the good of their career. I think we could all name a few of those. Previews open at the Garrick on January 9th.
Here's the trailer for Cuckoo, a creepy looking 'obsession drama' with Richard E. Grant and Laura Fraser, both of whom have been out of my sight for far too long. For them alone I'm going to look forward to this.
As promised last week, I'll now share my top tips for movie related viewing to be had on British TV over the Xmas period. I'll assume that we've all got just the Freeview channels, if only to save me taking 700 different sets of listings into account.
All five episodes of Orson Welles' Sketchbook, a series of illustrated lectures by the man himself, will be screening on BBC 4. The schedule is rather complex, but note that the series starts tonight, the 18th.
Stay up until 12.35 on Sunday night for Channel 4's screening of the 2-part documentary, Cecil B. DeMille: An American Epic. Scorsese, Angela Lansbury and Henry Hathaway are amongst the listed contributors.
Overlapping with this, E4 are screening a one hour special on Sam Taylor Wood's Nowhere Boy, from 12.15.
BBC4 have Oliver Postgate: A Life in Smallfilms on Tuesday 22nd at 8pm. It's a documentary about the creator of Bagpuss, Ivor the Engine and Noggin the Nog. Basically, he was a genius so I just won't be able to miss this.
The Rules of Film Noir go out on BBC2 in Wednesday 23rd at 12.55 at night. This kicks off a season of so-called Noir scattered across the festive period like shadows on a lung.
On Christmas Day, Five will be screening Mamma Mia!: Where Did It All Go Right? at 10.00pm. Could this show possibly explain how such a turgid film became a huge box office smash? Probably not. It probably won't even attempt to.
Arena's portrait of Orson Welles screens in two parts – 9.00pm on Christmas Day and 11.00pm on Sunday 27th, both on BBC4.
On Boxing Day at 11.50 in the morning, the BBC Proms will be paying tribute to the MGM Musicals on BBC2.
Same channel, same day but later on, at 9.55pm, is The Story of Slapstick. I'd at least expect some funny clips.
Leslie Iwerks' wonderful The Pixar Story gets an outing at 10.30am, Sunday 27th. Again on BBC2, who are clearly the channel of choice this Christmas.
I hope there's something in there you at least want to set the DVR for. Now watch me forget one of them and cry about it like a baby.
I've been watching an awful lot of Harvey Birdman this week. I already told you that I like it. What was particularly interesting with these Volume 2 DVDs is that the animation style notably changes mid-run. Some of the episodes were clearly animated on a computer, with something like Flash, and some of the quite obviously were not. I prefer the old style.
The show's premise is a great one: minor cartoon character practices law, ends up taking cases involving better known cartoon characters. One highlight episode sees the Jetson family coming back in time to sue us all for screwing up their planet. There's a number of great gags in that one, but I particularly liked that the Jetsons were coming from the future year of 2002 to the distant past of 2004.
Now I know I can get Birdman DVDs in the UK, what I want to know is why I can't get all of the seasons yet. Boo, hiss, etc.
One week from today, it will be Christmas day. I'll still be here, though, through the magic of timer-released posts.