Old Dogs Kills Wild Hogs 2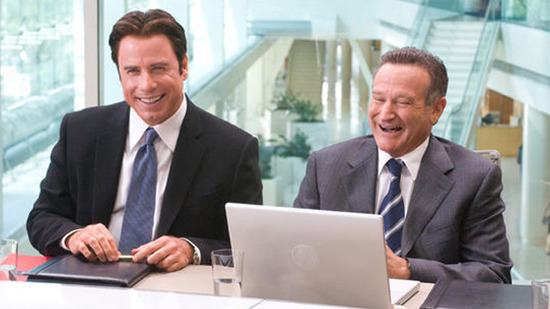 Another movie bites the dust at Disney. At this point the studio is 2 for 3 when it comes to killing off projects that sound utterly lousy. This is a trend I could get to like if I wasn't certain it'll eventually affect something good. After preemptively striking down both Wedding Banned and the new 20,000 Leagues Under the Sea (maybe making the score 3 for 3, depending on your taste for underwater adventure) Disney has taken Wild Hogs 2: Bachelor Ride out behind the woodshed and shot it. What happened?
As Variety has it, Old Dogs is the culprit. (You may not be able to view that link now without a paid Variety password, but I'll source it anyway.) See, Wild Hogs was an unexpected smash in 2007, hitting with older audiences and opening to $40m, then going on to amass almost $170m domestic and $252m worldwide. Despite overwhelmingly negative reviews it raked in the cash and slaughtered David Fincher's Zodiac. A sequel was naturally greenlit.
But there was an unexpected speedbump: Old Dogs. Directed by Wild Hogs helmer Walt Becker, the film featured Robin Williams and John Travolta playing middle-aged men learning to deal with kids as wacky hijinks ensue. It looked to be aimed at the same demographic as Wild Hogs. But as we've said, manufacturing unexpected success like that of Wild Hogs is next to impossible. Critics hated Old Dogs even more than Becker's previous movie, and audiences seemed to feel the same. Last month it opened to about $17m, and has taken three weeks to make what Wild Hogs made in the first weekend.
See that flash of light in the corner of your eye? That's the axe falling on Becker's sequel to his massive hit. It's really starting to sound like in the Rich Ross Disney, the only thing is a sure thing. But if the sequel to a massive hit like Wild Hogs isn't a sure thing, what is? What will be the next to fall? (Not going to lie — kinda hoping that it is Pirates of the Caribbean 4. Will any Dick Cook film survive in this regime?)
In the meantime, who knew a movie like Old Dogs could deliver two great gifts? First there was Faces of Old Dogs, and now this. Thanks!