Hot Tub Time Machine Movie Trailer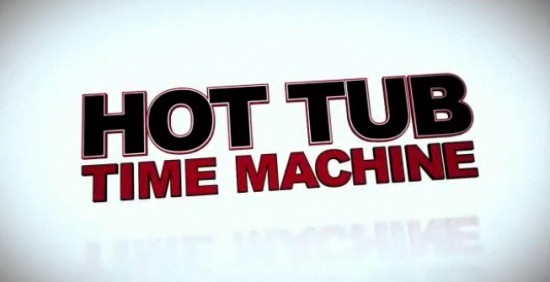 MGM has released the official movie trailer for Hot Tub Time Machine, a new sci-fi comedy starring John Cusack, Rob Corddry, Craig Robinson, Clark Duke, Lizzy Caplan, Crispin Glover and Chevy Chase. The film follows a group of best friends who've become bored with their adult lives: Adam (John Cusack) has been dumped by his girlfriend; Lou (Rob Corddry) is a party guy who can't find the party; Nick's (Craig Robinson) wife controls his every move; and video game-obsessed Jacob (Clark Duke) won't leave his basement.
"After a crazy night of drinking in a ski resort hot tub, the men wake up, heads' pounding, in the year 1986. This is their chance to kick some past and change their futures – one will find a new love life, one will learn to stand up for himself with the ladies, one will find his mojo, and one will make sure he still exists!"
Directed by Steve Pink, the director of Accepted and screenwriter of High Fidelity and Grosse Pointe Blank. This trailer will be attached to prints of Guy Ritchie's Sherlock Holmes. But you can watch the trailer now embedded after the jump. Please leave your thoughts in the comments below.
Watch the trailer in high definition on Yahoo. Hot Tub Time Machine hits theaters on March 19th 2010.