Cool Stuff: Tyler Stout's LOST Poster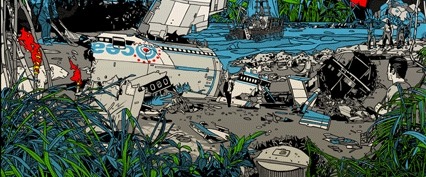 The DamonCarltonAndAPolarBear.com Lost-Inspired art viral has finally come to an end. Here is a round up of the art revealed that we've covered thus far: Hurley-inspired print by Tim Doyle. Locke-inspired poster created by UK artist Olly Moss, Dharma Van print by Methane Studios, "The Crash" poster by Eric Tan, "The 4-toed Statue by Jason Munn, Ken Taylor's "The Smoke Monster",  Kevin Tong's "The Hatch", and Dan McCarthy's "Rousseau's Transmission". We haven't posted about any of the Lost poster prints in a while because they sold out before we even learned they were put online.
The 16th and final poster was unveiled last night at Gallery 1988's Lost Underground Art Show, and it is the best one yet — a poster designed by /Film favorite Tyler Stout. We've been writing about artist Tyler Stout since I first found his "Remember the Alamo" poster at the Alamo Drafthouse. The Austin based artist frequently provides kick ass posters for the Alamo's special events, most of which we have featured on /Film: Robocop , The Road Warrior , Spaced , Hellride , Big Trouble in Little China, The Lost Boys, The Warriors , The Thing, Blade Runner, Total Recall, The Big Lebowski, and The Warriors.
Check out the full poster after the jump. The poster will go on sale on NothingsForever.com later today. Keep checking back, as they will go very VERY quick.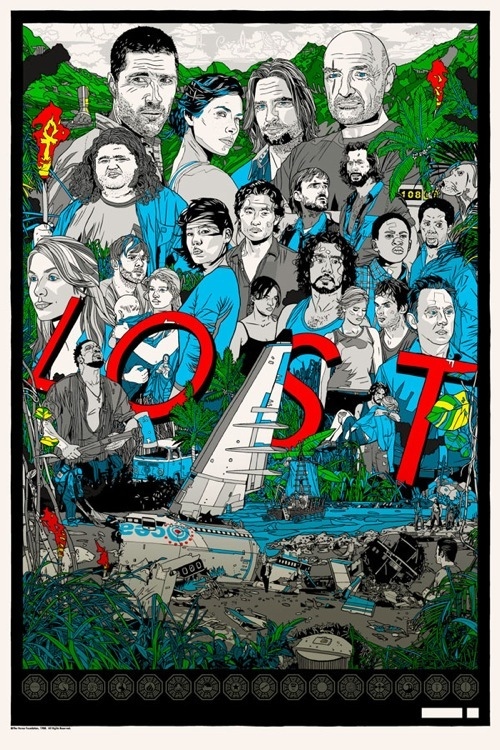 Cool Stuff is a daily feature of slashfilm.com. Know of any geekarific creations or cool products which should be featured on Cool Stuff? E-Mail us at orfilms@gmail.com.