Comcast's Web TV Streaming Service, Xfinity TV, Launches Nationwide; Paramount To Sell Movie Clips Online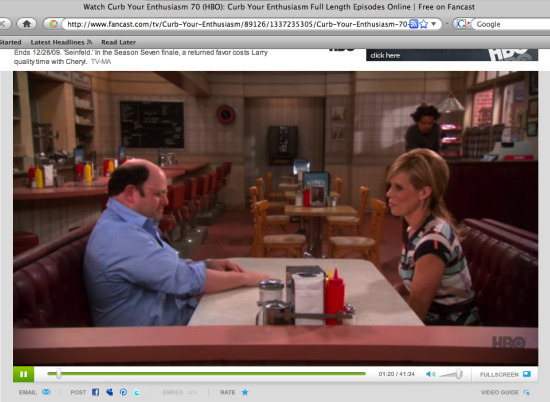 Several months ago, Comcast announced their "TV Everywhere" program, which would allow subscribers to view their television programming on the web via Comcast.net, or Fancast.com. Comcast has been testing the service in a few markets since then, and today they've announced that it's going nationwide. It's also now called "xfinity TV", because I guess TV Everywhere just made too much sense.
While the name is pretty Comcastic (and not in a good way), the service seems like a fantastic deal for Comcast customers. Xfinity TV (uhg) will offer subscribers 27 channels, including cable darlings like HBO and Cinemax. Currently, you have to subscribe to both Comcast TV and broadband to use the service, but they say that eventually any Comcast subscriber will get access (but most likely not to premium content like HBO).
Meanwhile, Paramount is trying to reinvent themselves in a different way — by launching a site for purchasing video clips at Paramountclips.com. According to the NYT, the site is restricted to business users right now, but they plan to open it up to the public eventually. It will allow Paramount to make money on back-catalog items, and they hope that it will catch on much like ring tones (not bloody likely).
Astute readers will notice that it sounds very familiar to the startup Anyclip, which I've covered here before. Anyclip will offer studios another way to sell back catalog clips, but I figure Paramount just wants to cut out that middle man entirely.
It'll be interesting to see how these clip services affect the current Wild West economy of free video content from the likes of Youtube. It probably won't help the studios too much to crack down on those clips further — although I'm sure that won't stop them. Instead, they should focus on making the clips truly worth the consumer's coin by offering superior quality, among other things.