This Week In DVD & Blu-Ray: Inglourious Basterds, The Hangover, And More
We may receive a commission on purchases made from links.
This Week in DVD & Blu-ray is a column that compiles all the latest info regarding new DVD and Blu-ray releases, sales, and exclusive deals from stores including Target, Best Buy and Fry's.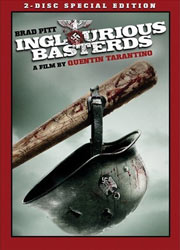 INGLOURIOUS BASTERDS
(Available as single-disc DVD, 2-Disc Special Edition DVD, and 2-Disc Special Edition Blu-ray)
"You know somethin'? I think this might just be my masterpiece." That's a mighty audacious claim that Tarantino not-so-subtly injects in Inglourious Basterds, his self-proclaimed World War II spaghetti western, but he earns the hell out of it. The film plays like a masterfully calibrated collection of short films, with each lengthy, deliberately paced scene—usually featuring nothing more than a number of characters sitting around a table talking—building up with excruciating intensity until finally reaching a breaking point, resulting in a delirious climax that repeatedly left me an exhausted mess. Together, these sequences add up to an endlessly thrilling viewing experience, with the overall narrative providing one of the more fascinating tales from the past decade. Everything there is to love about Tarantino is on full display here, from his ruthlessly clever dialogue to his brilliantly realized characters to his eclectic soundtrack selection and so on. Even though the movie is undeniably an exploitation film, there's also a brain behind the madness. Instead of merely reveling in the slaughtering of Nazis (although there's plenty of that too), Tarantino presents an interesting moral balance between all of the characters, including the comedically shameless Basterds and several almost (almost) sympathetic Nazi victims. Acting as somewhat of an examination of good and evil—or more specifically, what it means to be an evil person—Inglourious Basterds constantly plays on audience expectations for what its characters are capable of, using Hans Landa as its reference point for the true face of evil. This aspect is thankfully not pronounced aggressively enough to detract from the film for those that hope to appreciate it on a purely superficial level, but like the film's obscure, carefully placed movie references, it's there to be observed for those interested in looking. Two more things: Christoph Waltz's performance is astounding, and the film's ending is a stroke of pure, unbridled genius. Rock on, Tarantino. You made the best damn movie of the year.
Blu-ray? Yes.
Notable Extras: Single-disc DVD – Extended and alternate scenes, and the Nation's Pride film. 2-disc DVD & Blu-ray – Includes everything on the single-disc DVD, as well as a Roundtable Discussion with Quentin Tarantino, Brad Pitt and film historian/critic Elvis Mitchell, featurettes ("Making of Nation's Pride", "The Original Inglorious Bastards", "Rod Taylor on Victoria Bitters – the Australian Beer", "Quentin Tarantino's Camera Angel"), a conversation with actor Rod Taylor, a gag reel, a Film Poster Gallery Tour with Elvis Mitch, and a digital copy.
*Does not include 2-Disc Edition, which costs $21.49 at Amazon, $22.99 at Best Buy, and $24.99 at Target (see below).
EXCLUSIVE DEAL:
What? Blu-ray and 2-disc DVD include exclusive behind-the-scenes interview about the making of Inglourious Basterds with Quentin Tarantino.
Where? Best Buy.
EXCLUSIVE DEAL:
What? Deluxe 2-disc DVD ($24.99) and Blu-ray ($26.99) include exclusive CD soundtrack.
Where? Target.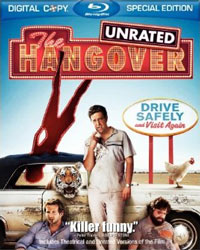 THE HANGOVER
(Available as single-disc DVD, Unrated 2-Disc Digital Copy Special Edition DVD, and Unrated Digital Copy Special Edition Blu-ray)
I'm almost tempted to buy The Hangover for the rewatch value alone. Though I wasn't quite as enthralled by the film as so many others seemed to be, it's undoubtedly one of the comedic highlights of '09. The dynamic between the three leads (Bradley Cooper, Ed Helms and Zach Galifianakis) provides a perfect balance of comedic talents, and they do an admirable job overcoming the contrivances of the screenplay, which is littered with trite gags and set pieces. Galifianakis in particular deserves special mention, as he steals nearly every scene he's in with his uncomfortably despondent, deadpan delivery. Director Todd Phillips, meanwhile, has redeemed himself after Starsky & Hutch and School for Scoundrels. He injects the film with a frenzied pace that perfectly suits its sleek yet bruised and gritty style. More comedies would benefit from the aesthetic flair that Phillips manages to bring to the film, as it really helps ground it in reality even as the unflinchingly ridiculous events of the plot transpire.
Blu-ray? Yes.
Notable Extras: 2-disc DVD & Blu-ray – Includes unrated and theatrical editions of the film, a gag reel, more pictures from the missing camera, features & featurettes ("Map of Destruction", "The Madness of Ken Jeong", "Action Mash-Up", "Three Best Friends Song", "The Dan Band!"), and a digital copy of the film.
*Does not include 2-Disc Edition, which costs $18.99 at Fry's and Amazon, and $22.99 at Target and Best Buy.
EXCLUSIVE DEAL:
What? Exclusive deluxe 2-disc DVD ($22.99) includes Las Vegas Zagat guide.
Where? Target.
EXCLUSIVE DEAL:
What? Blu-ray with t-shirt on pack ($29.99).
Where? Best Buy.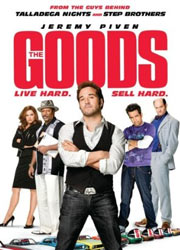 THE GOODS: LIVE HARD, SELL HARD
I consider myself fairly forgiving when it comes to plotless, forgettable gag-driven comedies like this. I even found enough to enjoy in Year One to suggest a rental. When I watch a movie like The Goods, a comedy that seeks to do only one thing: to present farcical zaniness in rapid succession, I expect only one thing in return: to laugh. Well, I didn't laugh nearly as much as I would've liked. It wasn't the excruciatingly unfunny experience that some critics had me believing it might be, but the film does feel rather limp and lifeless. The funniest instances come from the scenes immediately following the numerous outlandish character outbursts, with other characters taking a moment to reflect on just how inane/offensive/ridiculous the previous scene was. This sort of blatant self-awareness lends itself well to the style of broad comedy on display. It's just unfortunate that the gags themselves don't provide much to laugh about.
Blu-ray? No.
Notable Extras: None.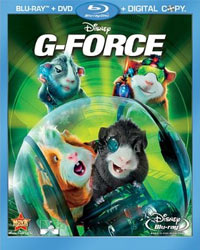 G-FORCE
(Available as single-disc DVD, 2-disc Deluxe DVD + Digital Copy, and 3-disc Blu-ray + DVD + Digital Copy)
G-Force is a Jerry Bruckheimer-produced movie about a team of secret agent guinea pigs who have to save the world. The trailer features 3 poop/fart jokes, several generic pop songs, and a number of my favorite actors (Zach Galifianakis, Will Arnett, etc.) showing how desperately they're in need of a paycheck. I'll pass.
Blu-ray? Yes.
Notable Extras: 2-disc DVD – A commentary with director Hoyt H. Yeatman Jr, featurettes ("Blasters Boot Camp", "G-Force Mastermind"), deleted scenes, 3 music videos, bloopers, and a digital copy of the film. Blu-ray – Includes everything on the DVD, as well as a Cine-Explore feature with Darwin, Blaster and their Creator, a Bruckheimer Animated retrospective featurette, and a Access Granted: Inside the Animation Lab featurette.
*Does not include 2-Disc Edition, which costs $22.99 at each of the listed stores (including Amazon).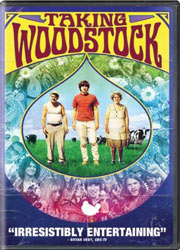 TAKING WOODSTOCK
Upon first hearing the news that Ang Lee would be taking on a project about Woodstock starring Demetri Martin, the bizarre trifecta of awesomeness was almost too much for my mind to handle. Then I saw the trailer, crushing my anticipation for the film almost immediately. Lastly came the reviews, quelling any remaining bit of hope I had left. Evidently, the film is just as clichéd and forgettable as it looks. I'm almost actively avoiding seeing the film at this point, if only so I can refrain from imagining the possibilities of what could've been any more than I already have.
Blu-ray? Yes.
Notable Extras: DVD – A commentary with director Ang Lee and writer James Schamus, deleted scenes, and a Peace, Love and Cinema featurette. Blu-ray – Includes everything on the DVD, as well as additional deleted scenes, and a No Audience Required – The Earth Light Players featurette.
Other noteworthy DVD (and Blu-ray) releases this week...
The Tudors (Season 3) – Robot Chicken (Season 4) – The Other Man [DVD / Blu-ray] – The Girl from Monaco – The Headless Woman
Other noteworthy Blu-ray-specific releases this week...
Star Trek: The Original Series (Season 3) – The Mel Brooks Collection

NOTE: Some deals may be in-store only.

Exclusive: Boogie Nights on Blu-ray ($24.99).

$5.99 – Step Brothers, Pineapple Express, Superbad, Monster House, Surf's Up, Hancock, Quarantine, Underworld/Underworld: Evolution, Resident Evil/Resident Evil Apocalypse, and more...