Early Buzz: Martin Scorsese's Shutter Island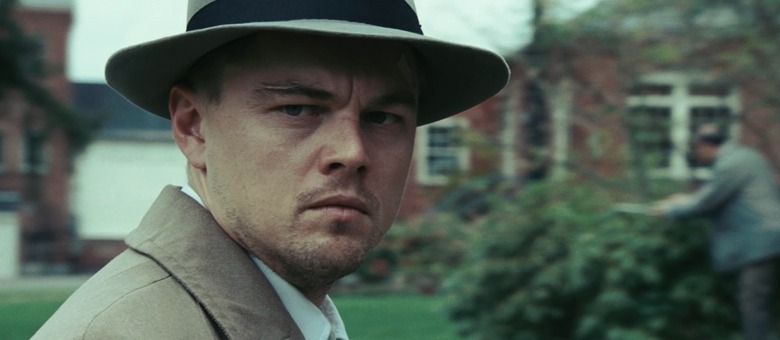 I've not yet recovered from Butt-num-a-thon, Ain't It Cool News founder Harry Knowles' annual birthday bash / 24 hour film marathon in Austin Texas. Every year the line-up remains a surprise mix of old vintage films you've probably never seen before (and possibly never heard of) and surprise premieres from some of the most anticipated movies of the next six months. This year was my first time attending the fest, after reading about the event for nearly a decade — and it lived up to expectations.
Among this year's premieres was the new Martin Scorsese film Shutter Island. I've enjoyed all of the Dennis Lehane film adaptations thus far (and not just because I grew up in the Boston area, where most of Lehane's novels are set). But this latest film had me a bit worried. Sure, Martin Scorsese was at the helm, and I should trust that the master filmmaker knows how to craft a great film at this point. But the trailers show a film very unlike Scorsese's usual (despite the fact that Scorsese regular Leonardo DiCaprio is again at the forefront).
The trailers also give away a bit too much, which concerned me because I, like many others I have talked to, had a good idea what the ending of the film might be.  And while I may have been partly correct, the film is thankfully much more than a twist or two — it is more about the journey and discovery along the way.
DiCaprio plays a U.S. Marshal who, along with his new partner (played by Mark Ruffalo) is sent to investigate the disappearance of a patient who escaped from Ashcliff, a hospital for the criminally insane, and is presumed to be hiding on the remote Shutter Island. But DiCaprio's character Teddy Daniels has ulterior motives, and hopes to uncover the real mystery of Ashcliff. The film is expertly crafted by Scorsese, who makes you wonder at every step of the journey, even up until the last seconds, what is the real story, who is lying, and what is the truth. In lesser hands the entire film could have been cheesy and completely obvious, but Scorsese somehow is able to pull it off, crafting a movie which is both thrilling and compelling. The film also features a bunch of great supporting performances.
The reaction from the audience was split. Most seemed to love the film, but a big faction of people couldn't get past either the obvious ending or the possibly illogical steps that you go through to get to that conclusion. For me the story was not only able to satisfy my questions and concerns, and not only holds up, but gets better after the revelations that comes from recollection. I actually would love to see the film again to discover some of the clues I might have missed along the way.
Here are a few reactions from around the web:
Harry Knowles: "It is a crime that SHUTTER ISLAND isn't in the Awards race this year, as I feel it would most likely run off with the top honor and Best Actor for Leonardo DiCaprio – and I'm someone that isn't always in Leo's corner. This is not only his best work for Scorsese, but his best role to date." ... "I really and honestly feel that this is a film that demands to be seen at least twice to fully appreciate. Consistently as revelations unveil, I found myself wishing to go back and apply that knowledge to things that happened before."AICN reader Augustus: "a visually stunning period film" ... "With the exception of one or two powerful scenes, DiCaprio does not stand out to me in this film." ... "Scorsese has created a masterpiece of filmmaking from what is unfortunately for me a fairly predictable script. Visually and musically, the film is a work of art."
Twitter:
Accordion27 "SHUTTER ISLAND is top-shelf Scorsese! Liked it more than I thought I would."Devin from CHUD: "SHUTTER ISLAND has a problem ending but grows in stature the more I talk about"Massawyrm from AICN: "SHUTTER ISLAND: Scorsese in near top form."the_movies "Shutter Island – I shouldn't be, but was pleasantly surprised in Scorceses new film. I may have forgotten to blink as it unfolded."