Peter Jackson Still Pondering A New Take On Gallipoli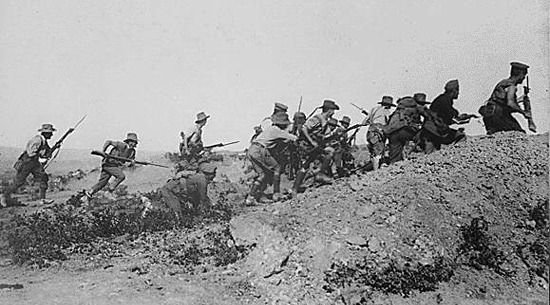 He's hardly got a plate as full as that of Guillermo del Toro, but now that The Lovely Bones is in theatres, Peter Jackson still has a few things to work on. There's Tintin and a couple of Hobbit movies to finish, just for starters. But he's still talking about a project that is dear to him: a new take on the Battle of Gallipoli, an attempt made during World War I to take the Turkish Peninsula. It was the first major engagement for the then-new Australian and New Zealand Army Corps (ANZAC); scores of ANZAC troops fought and were killed in the battle.
This may not be as much of a personal dream project as King Kong was, but Jackson has talked about this off and on for years. His grandfather fought in the battle, which lasted eight months, and Jackson was even involved in the restoration of a 20-minute film from 1916 featuring newsreel footage of the war.
Jackson told Australia's The 7:30 Report (found by The Playlist) that he's still thinking about the film. The notion came up years ago, when Jackson thought about making a filmed version of the battle from the New Zealand perspective, to complement Peter Weir's film Gallipoli, which starred a young Mel Gibson and saw the event primarily through Australian eyes.
Now Jackson says he's got a more balanced version in mind.
I have been thinking about it recently and I have been thinking that I'd do it much more from a combined Australian and New Zealand point of view. I don't think that we need necessarily to tell a film from a New Zealand perspective because the ANZAC tradition, the Australian and New Zealand, were so intertwined in that particular campaign that I think it would be a mistake to do [a New Zealand-centric film].
Part of the motivation to make the film is that the 100th anniversary of the battle is coming soon, in 2015. "It's coming on quicker than you think," Jackson says, "so I am definitely starting to think about [it]...To me, it's a remarkable part of our history and Peter Weir obviously made a great movie but Peter's movie was set around events of August 7th, August 8th, 1915. Gallipoli was a seven or eight month long campaign and that story is yet to be told on film so I'd like to do that."
The full interview at the 7:30 Report is good, a bit more candid than some of the US press Jackson has done. It's 20 minutes long, and worth a look.