New York Film Critics Circle Awards: Hurt Locker Is Tops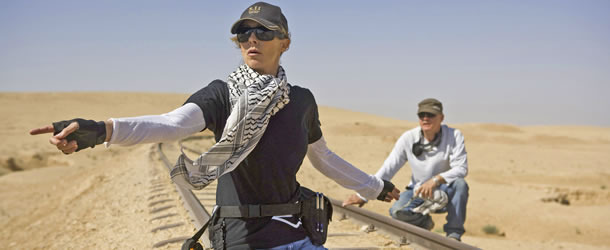 Here's the biggest vote yet for The Hurt Locker as a serious Best Picture contender, and Kathryn Bigelow as a must to be nominated for Best Director. The New York Film Critics Circle awards, one of the most prestigious set of awards each year and the critic organization with the most pull, have just been announced. The film and director top the list. (And let me clarify: the film and Bigelow are eminently deserving of Oscars regardless, but this puts real momentum behind them.)
The Golden Globes nominations will be announced tomorrow morning, and those always get a lot of press, but this is an interesting set of choices that should change some of the Oscar odds.
Many of these nods seem relatively safe, in part because they largely replicate the LAFCA's awards announced yesterday. One of the biggest upsets from that award set — Fantastic Mr Fox taking Best Animated Film over Pixar's Up — is replicated here, which is an interesting development. How many of you read that as indicative of the notion that Up will land in the Best Picture Oscar list (and lose) while Animated goes to Fantastic Mr Fox? Interesting thought at least.
I love seeing Steve McQueen and Hunger lauded in the First Feature category, though I don't like seeing A Simple Man miss the list altogether. And it has seemed like a lock ever since Cannes, but how can Christoph Waltz not win the Best Supporting Actor Oscar for Inglourious Basterds after taking one critic association award after another?
Meanwhile, before I get to the full list of NYFCC awards, I want to push Slant's 'Top 25 of 2009' list. I noticed it when Roger Ebert mentioned it over Twitter, and it's a great list. It's not necessarily the list I would choose, but that's what I love about year-end lists. I don't need to see my own option ratified over and over; I'd much rather see something that suggests I should pay more attention to films that didn't make my own list. Check it out when you have a minute, and queue up every film on it that you missed this year.
Without further ado, the NYFCC awards:
Best Film – The Hurt Locker
Best Director – Kathryn Bigelow for The Hurt Locker
Best Screenplay – In the Loop
Best Actress – Meryl Streep for Julie & Julia
Best Actor – George Clooney for Up In The Air and Fantastic Mr. Fox
Best Supporting Actress – Mo'Nique for Precious
Best Supporting Actor – Christoph Waltz for Inglourious Basterds
Best Cinematography – Christian Berger for The White Ribbon
Best Animated Film – Fantastic Mr. Fox
Best Non-fiction Film – Of Time and the City
Best Foreign Language Film – Summer Hours
Best First Feature – Hunger,  director Steve McQueen
Special Award – To Andrew Sarris for his contribution to film criticism