Geek Deals: Band Of Brothers - $32 On DVD / $40 On Blu-Ray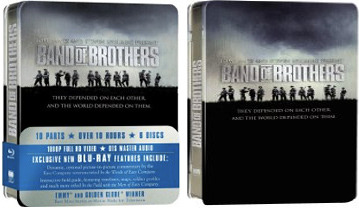 We may receive a commission on purchases made from links.
Amazon's 24 hour-only Gold Box Deal of the Day is Band of Brothers on DVD for only $31.99, and Blu-ray for only $39.99, 60% off the $80 MSRP!
Based on the bestseller by Stephen E. Ambrose, the epic 10-part miniseries Band of Brothers tells the story of Easy Company, 506th Regiment of the 101st Airborne Division, U.S. Army. Drawn from interviews with survivors of Easy Company, as well as soldiers' journals and letters, Band of Brothers chronicles the experiences of these men who knew extraordinary bravery and extraordinary fear. They were an elete rifle company parachuting into France early on D-Day morning, fighting in the Battle of the Bulge and capturing Hitler's Eagle's Nest at Berchtesgaden. They were also a unit that suffered 150 percent casualties, and whose lives became legend.
As with any of Amazon's Gold Box Deals, the price will vanish at midnight.