Mel Gibson And Leonardo DiCaprio Team For Viking Film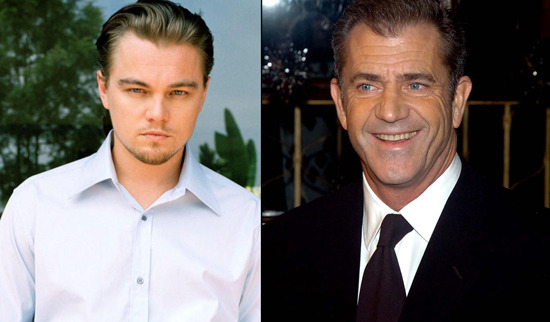 Mel Gibson is planning to direct a new "untitled period drama set in the world of Viking culture," with Leonardo DiCaprio set to star. After some time away from the screen, with the 2006 film Apocalypto being his last directorial effort, Gibson is back in a big way. He soon stars in Edge of Darkness and has wrapped his role in Jodie Foster's The Beaver. Now's pulling together a Viking picture, and perhaps one more semi-mystery film. Variety says the Viking film is expected to begin shooting in fall of 2010, and that it will be the next directorial effort for Gibson. The Departed's William Monahan is scripting. Those are all the details we've really, got, though the trade says the film "will be as unsparing as Gibson's other period directing efforts."
There have been quite a few Viking films in the last few years. Two versions of Beowulf, plus Outlander, Pathfinder (rather forget that one), Severed Ways and the Nicolas Winding Refn picture Valhalla Rising, soon to be distributed by IFC. If Gibson's film is successful maybe the Viking thing will really go large, in which case we'd need a seriously big name to continue the growth trend. I hear Spielberg is looking for a new film to make.
And what of the 'semi-mystery film'? Just last week, Gibson was said to be scouting locations in Veracruz, Mexico. The state's governor said that "a grand production will be filmed there with our friend, the actor and producer Mel Gibson." Gibson was said to be scouting the Ignacio Allende Prison, which was also used as a location for Apocalypto. Supposition pegged the new film as possibly The Drowner, an adaptation of Robert Drewe's novel of the same name, which takes place in Australia.
Could that film in fact be the Viking one? Seems unlikely, given the location. Mexico would be a much better stand-in for Australia (or re-location from Australia) than it would for anything related to Scandanavian warriors, though Mel may just have something wild up his sleeve. Gibson could be producing and/or acting in the Mexico-shot project, rather than directing, but all anyone is really going on here is the governor's statement. (As The Playlist notes, the website for The Drowner lists Gibson among hopeful cast members.) So I wouldn't consider anything set in stone on that front.
Regardless, the Viking film, which will be financed by Gibson and Graham King, is being discussed by trades as a project that is really happening. We'll update with more reports of how the Mexico project fits in when we're able.
UPDATE: Production Weekly says via Twitter that Gibson will star in How I Spent My Summer Vacation, which shoots in March in Veracruz. So there's your mysterious Mexican project. Adrian Grunberg, a former First Assistant Director who has worked with Gibson (Apocalypto), Jim Jarmusch, Michael Mann and Tony Scott, in addition to specifically ADing a couple of Mexico shoots for US films, will direct.