Cool Stuff: Millennium Falcon Bed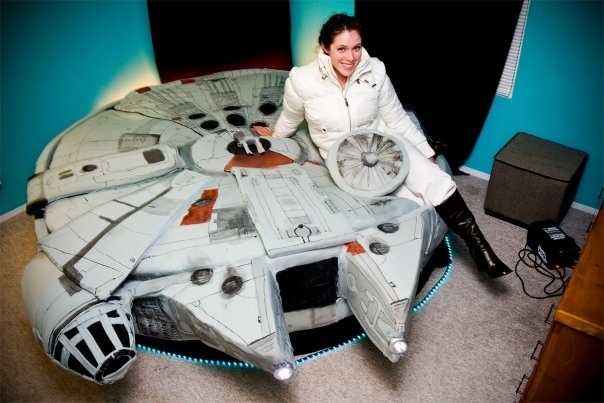 When I ran into Kayla Kromer at the Butt-num-a-thon pre-party on Friday night and she showed me a photo on her cellphone of her newest creation, I knew I needed to feature it in Cool Stuff. Kromer, who first made news with her Hamburger Bed, has taken a step further into the geek realm with her latest project: a Star Wars Millennium Falcon Bed.
The front of the ship features two LED-powered lights
Blue light glows from the bottom
A Map covers the interior sheets
The bed even features smuggler compartments to hide your goodies
The cockpit area is built to hold a couple Star Wars figures.
Check out more photos of the ultimate geek bed, after the jump.
Photo credit: Heather Leah Kennedy
Cool Stuff is a daily feature of slashfilm.com. Know of any geekarific creations or cool products which should be featured on Cool Stuff? E-Mail us at orfilms@gmail.com.