Critics Group Awards Roundup: Avatar Takes NY Online Critics Top Honor, The Hurt Locker Rakes In Accolades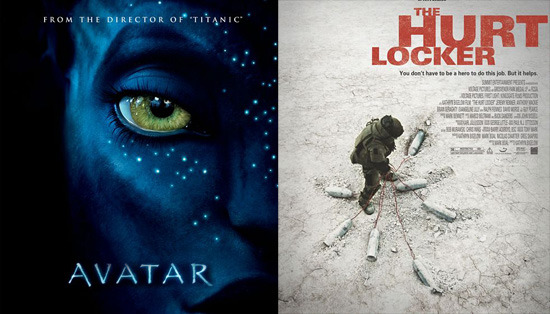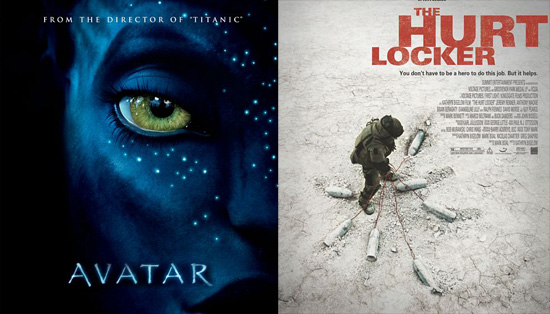 Today, three critic associations announced their picks for best cinematic achievements of the year. The Hurt Locker, one of 2009's most highly-praised films almost from the moment the calendar turned, swept awards from the Boston Society of Film Critics, and had quite a good show from the Los Angeles Film Critics Association. And while The Hurt Locker director Kathryn Bigelow took Best Director from the New York Film Critics Online, the association's best picture award went to James Cameron's Avatar. That's the first big award for Cameron's film, and as the positive reviews continue to roll in it likely won't be the last.
In what may be the best indication yet that we may see the first female Best Director winner at the upcoming Oscars, Kathryn Bigelow swept the Best Director awards from all three associations. The Hurt Locker took Best Picture, Best Actor, Best Cinematography and Best Film Editing in Boston; Best Picture and runner-up for Best Cinematography in LA. From the Boston and LA associations, Neill Blomkamp took awards for Best New Filmmaker.
There were a few upsets in LA. The LAFCA gave the Best Animated Film award to Fantastic Mr. Fox (the other two circles awarded Up) and Best Actress to Yolande Moreau from Séraphine. The other circles awarded Meryl Streep Best Actress for her work in Julia and Julia. Also making strong showings across all three award sets were Inglourious Basterds, The White Ribbon and The Cove.
Here are the full award lists.
The Boston Society of Film Critics
Best Picture: The Hurt Locker
Best Actor: Jeremy Renner for The Hurt Locker
Best Actress: Meryl Streep for Julie & Julia
Best Supporting Actor: Christoph Waltz for Inglourious Basterds
Best Supporting Acress: Mo'Nique for Precious
Best Director: Kathryn Bigelow for The Hurt Locker
Best Screenplay: Joel Coen and Ethan Coen for A Serious Man
Best Cinematography: Barry Ackroyd for The Hurt Locker
Best Documentary: The Cove
Best Foreign-Language Film: Summer Hours
Best Animated Film: Up
Best Film Editing: Bob Murawski and Chris Innis for The Hurt Locker
Best New Filmmaker: Neill Blomkamp for District 9
Best Ensemble Cast: Precious and Star Trek (tie)
Best Use of Music in a Film: Crazy Heart
New York Film Critics Online
Best Picture: Avatar
Best Director: Kathryn Bigelow, The Hurt Locker
Best Actor: Jeff Bridges, Crazy Heart
Best Actress: Meryl Streep, Julie & Julia
Best Supporting Actor: Christoph Waltz, Inglourious Basterds
Best Supporting Actress: Mo'Nique, Precious
Best Screenplay: Quentin Tarantino, Inglourious Basterds
Best Foreign Language Film: The White Ribbon
Best Documentary: The Cove
Best Animated Feature: Up
Best Cinematography: Robert Richardson, Inglourious Basterds
Best Music: T-Bone Burnett and Steve Bruton, Crazy Heart
Best Ensemble: In the Loop
Best Debut Feature: (500) Days of Summer
Best Breakthrough Performer: Christoph Waltz, Inglourious Basterds
The Los Angeles Film Critics Association
Best Picture: The Hurt Locker
Runner-up: Up in the Air
Best Director: Kathryn Bigelow, The Hurt Locker
Runner-up: Michael Haneke, The White Ribbon
Best Actor: Jeff Bridges, Crazy Heart
Runner-up: Colin Firth, A Single Man
Best Actress: Yolande Moreau, Séraphine
Runner-up: Carey Mulligan, An Education
Best Supporting Actor: Christoph Waltz, Inglourious Basterds
Runner-up: Peter Capaldi, In the Loop
Best Supporting Actress: Mo'Nique, Precious
Runner-up: Anna Kendrick, Up in the Air
Best Screenplay: Jason Reitman and Sheldon Turner, Up in the Air
Runner-up: Jesse Armstrong, Simon Blackwell, Armando Ianucci and Tony Roche, In the Loop
Best Foreign Language Film: Summer Hours
Runner-up: The White Ribbon
Best Animated Feature: Fantastic Mr. Fox
Runner-up: Up
Best Documentary: The Beaches of Agnes and The Cove (tie)
Best Cinematography: Christian Berger, The White Ribbon
Runner-up: Barry Ackroyd, The Hurt Locker
Best Production Design: Philip Ivey, District 9
Runner-up: Rick Carter and Robert Stromberg, Avatar
Best Music Score: T-Bone Burnett and Stephen Bruton, Crazy Heart
Runner-up: Alexandre Desplat, Fantastic Mr. Fox
New Generation Award: Neill Blomkamp, District 9
Douglas Edwards Award: C.W. Winters and Anders Edstrom, The Anchorage
Career Achievement Award: Jean-Paul Belmondo